Advanced Publishing Offers Universal Digital Edition Access

Readers can see digital edition regardless of operating platform.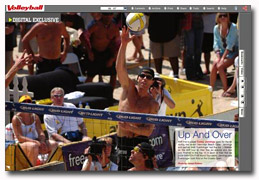 Digital magazine provider Advanced Publishing is betting that its RIDE (RIDE Interactive Digital Edition) service, which is based on Mircrosoft's Silverlight browser plug-in, will be able to better leverage emerging rich media applications than its competitors. But, until the end-user catches up with Silverlight, Advanced has introduced Digital Anywhere, a non-plug based version that enables readers to access the digital editions without downloads—regardless of what operating platform they use.
"Going forward, a lot of new rich media features could make use of something high-powered like Silverlight, but there are still a lot of people out there with older machines and older systems like Windows 98 that weren't able to take advantage of it," says Advanced CEO Trish Connolly. "There are also some government agencies and corporations that have strict download policies. To service that marketplace, we needed to come up with a new version."
Dual versions of RIDE and Digital Anywhere are rolling out to Advanced customers. "I like not having to download Silverlight or other programs," says Michelle Russell, editor-in-chief of Convene, the magazine for the Professional Convention Management Association. "I e-mailed a link to my father's old laptop and he went right to the link and opened it up."
Silverlight vs. Flash
Advanced claims Silverlight will be able to offer a more dynamic experience than Flash. "Unlike a Flash file—which is a compiled file that's delivered to the browser—Silverlight allows us to alter the content," says Connolly. "Going forward, we can offer each reader a customized experience. We could deliver content that's different on page 25 for one reader from page 25 for someone else."
Connolly says Silverlight can also help create cheaper video as well as more efficient streaming and digital rights management than in Flash because it adheres to an industry standard for video coding.
Advanced charges a one-time set-up fee to create a branded landing page for each client as well as a per-page charge that varies between $8 and $15 depending on the size of the magazine, the number of pages and the publishing frequency.
Meet the Author
---