Adding Life to List Franchises

How the Inc. 5000 and MCP100 drive traffic and revenue year-round.
A flood of press releases, tweets and congratulations hit the wires when big-name franchise lists come out every year, but the features live on after the issue leaves newsstands.
Increasingly, dedicated verticals and events are being introduced to turn these franchises into year-round propositions.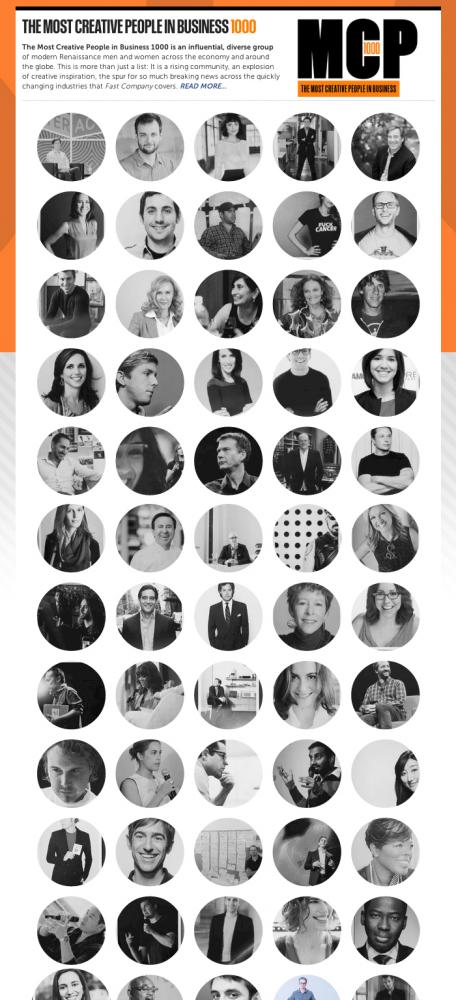 It's a strategy Mansueto Ventures' Inc. and Fast Company have been pursuing with the Inc. 5000 and Most Creative People 100, respectively. The latter was expanded into the MCP 1000 in January, using honorees from previous MCP 100s and other high-profile personalities in business.
As part of the expansion, the MCP
 1000 now has a channel on Fast Company's website that aggregates coverage
of anyone on the list. Honorees have
 pop-up profiles with a bio, an archive of
related content and social networking info that are integrated into stories throughout the rest of the site.
While the initiatives aim to make the MCP 1000 relevant year-round, says Bob Safian, editor of Fast Company, the content isn't necessarily evergreen. There's a continual investment in the group from an editorial standpoint. Fast Company reaches out to its MCP list to source regular features in print and online, and also establishes relationships they hope will lead to exclusives and breaking news in the future.
Inc. leverages those relationships in a similar way, but also turns to the group as a testing ground. Three of the magazine's editorial surveys draw from the pool of Inc. 5000 nominees, says Eric Schurenberg, Inc.'s editor-in- chief. They're also frequently used for cover line tests, market research and in partnership with the Kauffman Foundation, a non-profit conducting research on small business practices.
"The response rates from Inc. 5000 companies are enormous, so we use them a lot," Schurenberg says.
Face-to-Face
The value proposition for honorees often comes in the form of face-to-face events. They're exclusive networking opportunities with other high-ranking decision makers.
Christine Oeskoski, publisher of Fast Company, says the two launch events held for the MCP 1000 in New York
and San Francisco were purely editorial ventures this time—"soft-launch[es] to tell the people on the list what they'll get out of it," she calls them—but sees value on the sponsorship side.
"When you put together any kind of group, the question is: what's in it for you?," says Oeskoski. "For advertisers, we're creating exclusivity and we're only going after a select group of ad partners who we feel share some of the same DNA [with the honorees]. This way, we can create custom content or experiential events in complete alignment with their brands, and give them real access to this highly-selective group of people."
See also: The Big Business of Franchise Issues 
Meanwhile, the new digital assets offer scale and targeted opportunities for brands looking to associate with a subset of honorees, Oeskoski adds.
Schurenberg points out one more benefit these flagship franchises have that's not as easy to quantify though.
"Like the Fortune 500 or, for that matter, People's Most Intriguing People, the Inc. 5000 helps to define what Inc. is in the minds of people," he says. "That helps identify Inc. with fast-growing, private companies, and it's really valuable in that sense as a branding tool. That's some- thing that's hard to quantify, but it's incredibly important."
Meet the Author
---