Active Interest Media's Earth Day Surprise

Holiday inspires publisher to plant trees, publish digital issues.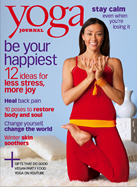 In honor of Earth Day next spring, Active Interest Media will
offer subscribers of Yoga Journal the
option of receiving the May 2008 issue digitally instead of in print, and will
plant a tree for every digital issue it sends.
"This is an excellent opportunity not only to lighten our
carbon footprint but to offer readers a chance to experience Yoga Journal in a new way," Bill Harper,
vice president and group publisher of Active Interest Media's Healthy Living
Group, said in a statement. AIM will tap Zinio to convert the issue to a digital
format.
Subscribers who sign up online
will receive Yoga Journal's digital issue
by e-mail on April 2. The issue will feature downloadable music and audio
interviews, and will be able to be sent from reader to reader. Sister
publication Vegetarian Times also is
set to offer a digital edition of its April issue.
For every issue (both titles) that is sent digitally, AIM
will plant a tree in India-the
birthplace of yoga. Up to 5,000 trees could be planted, the publisher says.
In addition to helping the environment Harper hopes the
digital issues will attract new readers. "We are acting like a new-school
record company, allowing a cut from a new album to reach as many people as
possible with the hope that they will come back to buy the album or other songs."
Meet the Author
---