Active Interest Media Acquires Four Magazines

Backpacker publisher buys Old-House Interiors, Arts & Crafts Homes, others.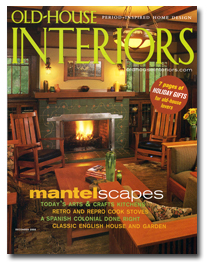 Backpacker publisher Active Interest Media has purchased four home magazines from Gloucester, Massachusetts-based Gloucester Publishers. Financial terms were not disclosed.
The deal includes Old-House Interiors, Arts & Crafts Homes, Early Homes and the Design Sourcebook, as well as their online assets. The magazines will be relocated to AIM's Home Buyer Publications division in Chantilly, Virginia. HMP publishes AIM's Old-House Journal and New Old House.
Patricia Poore, who created the four magazines, will continue to serve as editor-in-chief. A number of Gloucester Publishers employees had previously been laid off while some remained with the company on an "as needed basis," HPG group publisher Laurie Sloan told FOLIO:.
"The business location of these titles will change, but the dedication to connecting people who love old houses and old-house style—along with craftsmen and companies who produce products for period houses—will never change," she said.
Despite already owning two magazines in that market, Sloane said AIM will continue to publish all four Gloucester Publishers titles. In January, AIM struck and unusual asset swap with enthusiast publisher F+W Media in which it acquired F+W's log and timber group, Home Buyer Publications, and shuttered Log Homes Illustrated and Timber Homes Illustrated.
"We think this is a time when you'll see a lot of consolidation in the market by stronger players like AIM," DeSilva + Phillips managing partner Reed Phillips told FOLIO:.
Old-House Interiors (published six times per year) and Arts & Crafts Homes (four times per year) carry 40,000 circulations. Early Homes (published twice per year) and the Design Center Sourcebook (published once annually) carry 20,000 circulations.
Meet the Author
---