Winning in the Business of Branded Content

A panel discussion with five industry leaders.
It goes without saying that media is changing and so too are the ways publishers and agencies are working with brands. Content studios are forging new advertising partnerships with different revenue models in order to recapture lost revenue from the decline in print ad spend. But what do branded content models do to the agency-client-publisher relationship?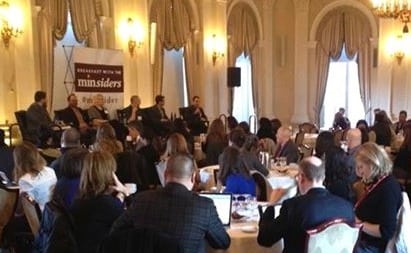 At the Wednesday's "Breakfast with the minsiders," five panelists from both the publisher and agency worlds gathered at New York's Yale Club and revealed an inside perspective on this new and robust revenue source, from pricing to measurement and everything in between. The panel included Grant Jones, executive producer, from Condé Nast, The Atlantic's, vice president of marketing, Sam Rosen, Claire Robinson, senior director, brand media production, from Forbes Media, Julian Cole, head of communications planning with Bartle Bogle Hegarty and Eli Pakier, group strategy director, from MRY.
One highlight was when the conversation shifted to engagement, a term that's frequently thrown around with a lot of ambiguity. From the agency perspective, Pakier referred to it as a way of evaluating content, a filter but "not the end measure." Cole weighed in with a more brash agency perspective, saying that to define a "like" or a comment as engagement is "absolutely rubbish," because those metrics are really just giving you a little taste of whether the content is resonating or not. Cole also went on to say "social is way overstated," and explained that the main thing is content and making sure it's right. All three publishers were in agreement that shares/impressions are the best form of engagement and Grant concluded that "all social metrics are important but shares are most important."
The audience also questioned whether the proposal system is broken and what could be done to fix it. Rosen confirmed that "it's always been broken." The panel all mostly agreed, and put the onus on unrealistic client expectations. Pakier jokingly apologized to the publishers saying, "On behalf of the agency, sorry. We live this every day but we do the same thing to publishers, ask for unfair expectations." Robinson concurred, "Yes, I think more time would be nice."
Meet the Author
---