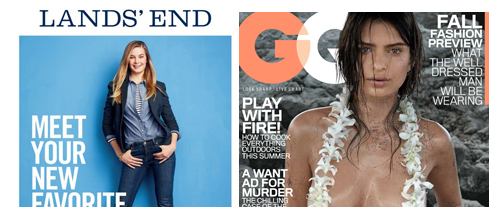 Experts on the issue of Internet privacy seem to agree on one point: It doesn't exist. We are told that there is virtually nothing about any of us that cannot be learned with a click of a mouse.
I recently got an email alert from a data security company warning me to improve my levels of security by enabling two-factor password reset, and by supporting self service password reset for my audience members. The reason for this was, of course, a security breach. A Russian hacker group has amassed over 4.5 billion stolen personal records, according to the alert. 
Knowing just how much of our information a Russian teenage boy can get access to makes the recent Lands' End/GQ contretemps all the more puzzling.
Lands' End, according to a New York Times report, set up a partnership with Condé Nast, to provide free magazines to its best customers. On the face of it, it's a great idea. The customer gets a gift from the catalog merchant, the merchant gets credit for appreciating its customers, and Condé Nast gets its magazines out in front of a new potential buyer. Win/win/win.
Somewhere along the line, something went wrong.
Conservative religious families, who had bought uniforms for their children to wear to a Christian private school, were in an uproar when the aptly (if coincidentally) named "Play with Fire" issue arrived in their mailboxes. It featured a topless woman as the cover model.
A few of my publisher friends called to pass this bit on to me. They all thought it knee-slappingly funny. So, in fact, do I. However, as one commented, "In the age of big data, we should be able to do better than that. It shouldn't take much to figure out that a conservative clothing retailer and a racy cover image don't mix."
Pay-to-Play: How to Use Paid Ads on Social to Amplify Your Brand's Content
Check out this related session at The Folio: Show, November 1-2 in NYC!
Many social networks are turning to paid posts as their main source of revenue—none more so than Facebook, Instagram and…