Hearst Launches Subscription Video Channel
CosmoBody is the first project by the new Hearst Digital Studios.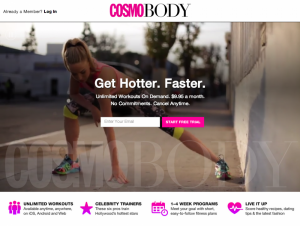 Hearst Corporation announced its newest digital offering for the Cosmopolitan brand, a fitness video channel called CosmoBody. The subscription-based on-demand service is the first venture by the newly formed Hearst Digital Studios.
A monthly subscription of $9.95 gives access to streaming workout and lifestyle videos, produced in collaboration with Mark Burnett's Vimby studios. Videos are accessible on desktop, iOS, Android or streamed to big screens via Apple TV. It will be coming to more screens soon, using devices such as Roku. CosmoBody features eight celebrity trainers, specializing in everything from dance cardio to martial arts to yoga, but with the Cosmo spin.
Neeraj Khemlani, head of Hearst Digital Studios and co-president of Hearst Entertainment & Syndication, says that Hearst chose Cosmo for its first video venture because it is the biggest brand (the same reasoning was behind Cosmo's recently relaunched website). "We discovered that the second most popular category of content within the magazine after the relationship advice was fitness," adds Khemlani.
The Cosmo voice will shine through, says Khemlani. "No one else is going to do 'Get in the Mood Yoga,' or 'Burlesque Chair Dancing Workout.'"
Other features include structured 1-4 week programs to get women ready for key moments, from the "Wowza Wedding Body" to "Revenge Body" for help recovering from a breakup. Users can track progress by calculating calories burned from workouts and will be able to link CosmoBody to wearable devices, a future development for the service.
Khemlani says that Hearst Digital Studios was the brainchild of president and CEO, Steve Swartz, who was appointed last year. "One of the things he wanted to do was create a group that's not beholden to the day-to-day activities of the brand to think about how to make exciting new products, especially when it comes to digital video."
Hearst is attempting its first subscription video service with this channel and, while a $9.95 price point seems high, Khemlani reasons that users will value the premium content for a premium price. "When you look at people who have bought these fitness DVDs for a long time, they're not going to suddenly watch anybody with a yoga mat on YouTube," he says. "They want premium content brought to you by some of the top trainers of our time, and that's what we're offering." He also says that the price point may not stay forever, "but we think it's a good place to start."
Hearst's large-scale video initiative comes on the heels of announcements from Time Inc. and Condé Nast, which have also launched dedicated video platforms.

07/15/2014