NewBay Media Buys Broadcast Engineering Assets
Penton shuttered the magazine in October 2013.
NewBay Media acquired select Broadcast Engineering magazine assets from parent Penton Media, including Web properties, its branding trademark, subscriber lists and both the U.S. and World editions.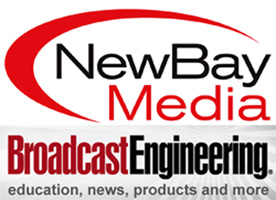 After 54 years of publication, Penton closed the title, which aimed to provide corporate management, engineers and technicians coverage of the video, broadcast, production, telecommunications and cable technology industries, last October citing an overall economic and ad revenue decline for the decision.
NewBay Media will fold Broadcast Engineering into its portfolio of television and video resources including TV Technology, TVB Europe, Next TV, Broadcasting & Cable, Multichannel News, Video Edge, Digital Video, Government Video and the Creative Planet Network.
Terms of the deal were not disclosed.
"This is a great opportunity to introduce a new audience to our market-leading brands," says Carmel King, executive vice president of the NewBay Media Broadcast/Video Group, in a statement. "We are excited to welcome Broadcast Engineering readers and advertisers to the NewBay family."
Broadcast Engineering's current print subscribers will be offered the opportunity to subscribe to TV Technology, TV Technology Europe or TVB Europe in a print, digital or tablet form. In addition, over the next few months, NewBay will combine broadcastengineering.com and tvtechnology.com into a single-source web-based resource.
According to the company, the deal will boost overall audience reach to more than 500,000 industry professionals—Broadcast Engineering adding a unique audience base of 75,000 individuals—throughout the U.S., Europe and elsewhere internationally.

01/14/2014