2014 Trade Show M&A Volume Flat, But Valuations On the Rise

After bottoming out in 2010, multiples forecasted to hit 8.5X in 2015.
Trade show and event transactions slowed down in 2014, but they continue to be a relatively active niche in media M&A.
According to a report from trade show M&A advisory firm Corporate Solutions, the number of deals year-to-date is flat when compared to 2013, but there were several sizable ones—and multiples continue to rise.
To date, there have been 18 closed deals in 2014, according to Corporate Solutions. There were 19 in 2013.
Those numbers are down, however, from the 25 deals that closed in 2012, but still significantly up from 2011's 10 deals.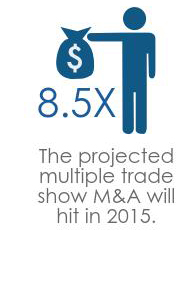 Notable transactions this year included the $972 million sale of Advanstar to UBM, which came with more than 150 events. In a surprise deal, Hanley Wood sold off its Exhibitions group—17 events and trade shows in the real estate, design and construction markets—to Informa for $375 million.
Both of those transactions achieved higher than 10X EBITDA multiples (earnings before interest, taxes, depreciation and amortization), significantly higher than the 8X multiple Corporate Solutions averaged for the year. The firm is projecting multiples to hit 8.5X in 2015.
Buyers have primarily been strategic, who have been sticking to familiar markets and acquiring smaller competitors.
Meet the Author
---