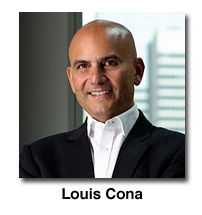 Louis Cona joined Condé Nast Media Group just five years ago, but he has quickly ascended to the top of the organization: company CEO Charles Townsend announced today that Cona will assume the role of president of the Condé Nast Media Group and chief revenue officer.
"This new appointment reflects Lou's success in growing ad revenue and evolving our advertiser relationships into more diversified, strategic partnerships," Townsend says in a statement.

See Also: Condé's Townsend: The Old Days of Publishing Are Over

Cona joined Condé Nast Media Group in 2008 and has been the company's chief marketing officer for the past three years. Earlier in his career, Cona spent four years as vice president and publisher of Vanity Fair and two years as vice president and publisher of The New Yorker.
The media group delivers an expanding collection of assets to clients of Condé Nast and in this role Cona will be responsible for leading all revenue generation at the corporate level—including advertising and marketing solutions across all of the company's platforms.
Stay updated on the latest FOLIO: news, follow us on Facebook & Twitter!
M&A Planning for Senior Business Managers
Check out this related session at The Folio: Show, November 1-2 in NYC!
With the world of media M&A heating up, front-line executives—the people running brands and divisions within companies—need to understand the…