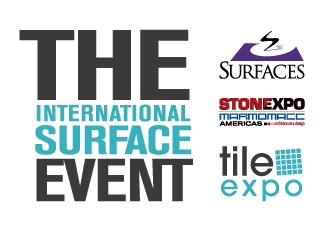 Hanley Wood unveiled details for two new events, The International Surface Event East and TileExpo, in an effort designed to enhance the relationship between the flooring and surfaces industries.
The International Surface Event East will launch Oct. 19-22, 2014 at the Miami Beach Convention Center in Miami Beach, Fla. The show is a complementary addition to The International Surface Event to be held Jan. 27-30, 2014 at the Mandalay Bay Convention Center in Las Vegas.
"We believe in a fall show that allows businesses to take advantage of annual fiscal tax opportunities, which are beneficial to suppliers and customers alike," says Matt Lansing, executive director of Stone Fabricators Alliance, in a statement.
Jim Hieb, executive vice president and CEO of the Marble Institute of America, echoed the sentiment in a statement calling the new show "essential for companies looking for growth and ways to stand out" among competitors.
The Marble Institute of America, alongside the Natural Stone Council, is an official sponsor for StonExpo/Marmomacc Americas, which will work in tandem with the second Hanley Wood launch, TileExpo.
TileExpo will be held concurrently with the StonExpo/Marmomacc Americas and SURFACES events, Jan. 27-30, 2014 at the Mandalay Bay Convention Center in Las Vegas. The union between the three will offer industry professionals access to the latest products, networking opportunities, educational demos, and access to manufacturers and suppliers.
"Exhibitors will now have the chance to showcase their products and services during two distinctly different buying seasons," contends Amie Gilmore, associate show director of SURFACES, StonExpo/Marmomacc Americas and TileExpo, in a statement. "We have received countless requests for a fall show, as well as an East Coast show, and we're happy to finally be able to fill this important industry need."
Everything You Need to Know About Programmatic
Check out this related session at The Folio: Show, November 1-2 in NYC!
Programmatic has become a juggernaut, driving Google's and Facebook's revenues to levels higher than the entire magazine industry. For many…