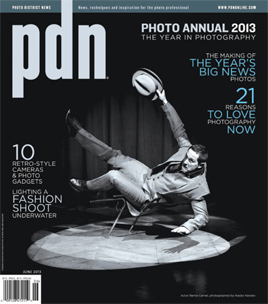 MAGSTATS
Issue: June 2013
Frequency: Monthly
Launched: 1980
Circ: 20,000
Editor: Holly Stuart Hughes
Creative Director: Darren Ching
Photo Editor: Amy Wolff
Publishing Company: Emerald Expositions
Designing a cover is never an easy proposition and that is especially true when it's your most important issue of the year. What's more, if your audience is comprised of professional photographers then the cover image has to be flawless. PDN understands that, and labored to find a near-perfect image for its Photo Annual issue.
The Photo Annual runs every June, and offers an eclectic mix of the best photos of the year from  several categories. This year Nadav Kander's portrait of actor Bertie Carvel, from The New York Times Magazine adorns PDN's franchise issue.
A lot of questions go into planning the Photo Annual. Editor Holly Stuart Hughes says, "We can't we repeat ourselves, so we have to ask: When did we last have a portrait on the cover? When did we last run a black and white image? We also have to ask: Is it surprising?"
PDN takes a democratic approach in selecting its covers. For the 2013 Photo Annual creative director Darren Ching says, "We worked from a list of 18 potential cover images. In a dialogue between the editorial, photo, art departments and our publisher we discussed the merits and problematics of the images until there was a strong consensus."
PDN has another unique challenge–trim size and its square format. Photo editor, Amy Wolff suggests this helped narrow the selection some because some images wouldn't work if they were framed in a square perspective. "We initially look for images that can be cropped without changing them too much," she says.
PDN also credits its audience as inspiration for the cover. "They are visually sophisticated and more interested in a beautiful image than a famous face," Wolff says.

DESIGNER'S COMMENTS
"Beautiful photo choice from a stunning New York Times Magazine photo essay, and photographer Nadav Kander is a perfect choice for a 'best of' (creative year 2012) issue. I think this particular photo even tapped into the zeitgeist of 2012–a year when The Artist won the Academy Award for Best Picture."
"The composition, typefaces and understated color used for cover lines feel both modern and elegant, complementing the photograph perfectly."

"Maybe no color band or taglines at the top? Part of PDN's large size and excellent paper quality is the drama they can offer printed photography and the bar slightly impedes this effect."

"One 'wish list' item: I wonder if subscribers could get a version with no secondary cover lines? I know I'd love to see that in my mailbox!"
-Dave McKenna, Art Director, 5280
"This is a perfect magazine cover image: Surprising, stylish, fun, engaging and artful—all at the same time. And the image works well with the PDN logo and surrounding coverlines. I love the way they used different shades of grey to play off the black and white photo. And the cover typography is restrained, so it accents the photograph instead of competing with it."

"There are some things about the typography and the use of color that I think could have been done differently. The type size and the use of blue seems somewhat random to me. I think they could have gone all grey with the type, or else used more color, or used the blue on one of the left-hand headlines."
-Robert Newman, Creative Consultant, Robert Newman Design
Have a unique "cover" story? Contact associate editor Casey Welton at cwelton@accessintel.com
Pay-to-Play: How to Use Paid Ads on Social to Amplify Your Brand's Content
Check out this related session at The Folio: Show, November 1-2 in NYC!
Many social networks are turning to paid posts as their main source of revenue—none more so than Facebook, Instagram and…