2013 Advertising Sales Salary Survey

Pay improved for many in director and manager roles after a down year in 2012.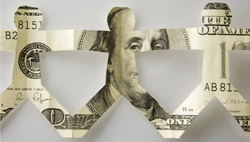 The definition of magazine advertising sales has changed dramatically in recent years. New products, new competition and new market forces are expanding the role. Print, still an important piece of the puzzle, is just that—a piece. Publishers are forced to increase ancillary revenue from digital and events products to make up for the continuing downward spiral of ad pages.
That's been the narrative behind the last few advertising sales salary surveys at least. But as the industry remains far from a consensus solution to advertising in this new media landscape, from a salary perspective, things are starting to improve from the top down.
Mean compensation for ad sales directors rose to $131,000—more than 10 percent from where it had been in each of the last two years. The change was even more pronounced for ad sales or regional managers who saw average pay jump 20 percent year-over-year to $106,000. Account execs got just a 2 percent raise from 2012 however, up to $94,000.
"Doing More With Less"
That good news for pay doesn't mean the industry changes are over though—just that salespeople are getting better at dealing with the challenges.
"I'm doing more with less," says one of the 126 respondents to the survey, "managing the transition from a print-reliant [business model] to a more diversified revenue base, including web and events."
Many reported a similar expansion of their roles. Digital and events sales are taking a more central role in day-to-day work, with several respondents also seeing their roles touch on marketing and even circulation.
Bridging the church-and-state gap between ad and edit teams has also become more common. A number of respondents reported taking on some role in editorial oversight. "Gotten much closer to the edit machine," says one, "especially as it relates to social media and support of sponsorships."
Whether the 2013 survey is a sign of lasting stability or an outlier remains to be seen. The emergence of native advertising and video have the potential to increase pay, while corporate self promotion through digital and social channels will threaten wages.
SALARY BY CATEGORY:
Advertising Sales or Regional Manager

Advertising Salesperson, Account Executive or Category Manager
METHODOLOGY:
The mailing list of 733 was selected by Red 7 Media and Readex Research and represented all of FOLIO: domestic subscribers classified as sales management at the time of list selection. The survey was closed for tabulation on May 13, 2013 with 169 usable responses, a 23 percent response rate. Responses were filtered to include only the 126 who completed the survey and indicated their job titles matched what's used in the survey. The margin of error based on these respondents is +/- 8.0 percentage points at the 95 percent confidence level.
Meet the Author
---