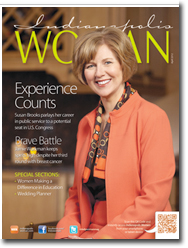 Weiss Communications' Indianapolis Woman, a regional closed circulation magazine reaching 150,000 readers monthly, sold its publishing rights in an assets deal to an Indiana-based private investor company. As a result of the sale, Weiss' 14-person staff will be let go.
Weiss Communications, led by president/publisher/CEO Mary Weiss, purchased Indianapolis Woman in 1994. The May issue will be the last published by Weiss. At time of closure, the magazine has a monthly circ of 45,000.
Indianapolis Woman is Weiss Communications' only publication. The publisher launched sister publication St. Louis Woman magazine in 2006, which then folded in 2010.
John Weiss, VP of operations/director of digital media with Indianapolis Woman, tells FOLIO:, "The expansion was ill-timed and we did not fully understand the market. This cost a great deal of money and created a distraction for our Indianapolis publication. We believe the St. Louis distraction affected our ability to transition Indianapolis Woman through a tough economy and changing advertising culture."
Weiss says the private investor group has requested to remain anonymous, but says, "Every effort is being made to sell the magazine to a company that can continue where we began."
Creating New Revenue with Content Marketing and Native Advertising
Check out this related session at The Folio: Show, November 1-2 in NYC!
If your business remains print centric, dependent on legacy formats like full-page print ads, then content marketing and native advertising…