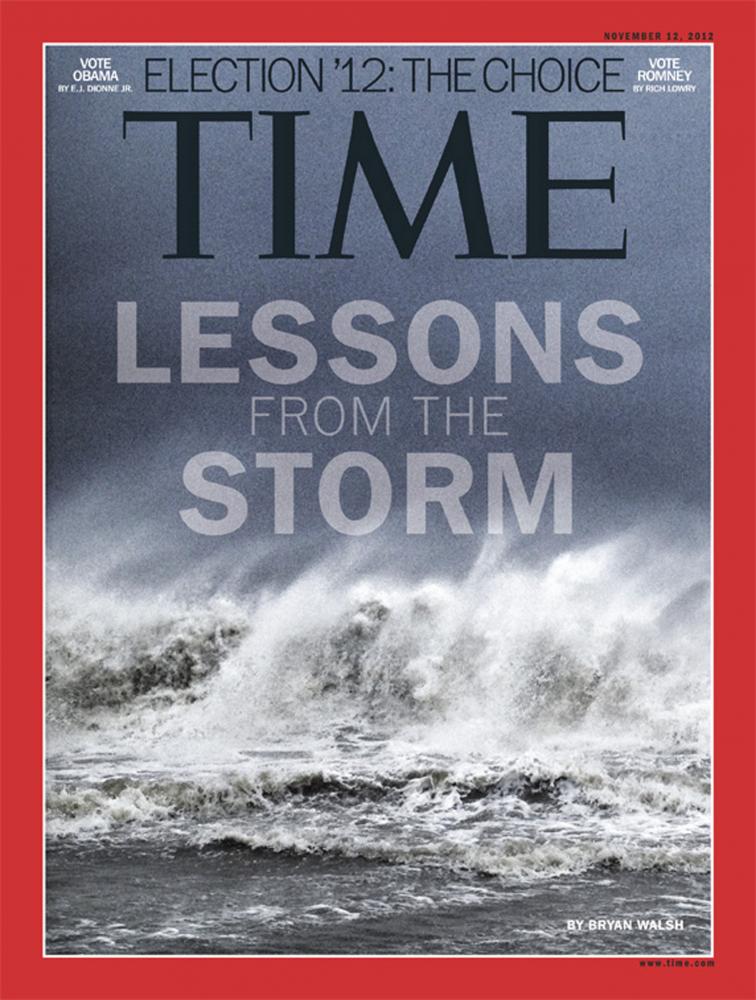 While many predicted Hurricane Sandy could follow in the footsteps of "Geronimo" and the Arab Spring–a shining moment for social media and citizen-journalism–Time turned to Instagram ahead of the storm.
Starting in late summer, Time began using the popular photo-sharing social platform to curate images for its August "Wireless Issue." With over 30,000 submissions from its audience, the cover featured a grid of 288 images-all taken by volunteer amateurs and routed to the magazine only with the hashtag #TIMEwireless.
For Sandy however, Time photography director Kira Pollack decided to turn to the platform once again, but for different reasons. Speed and reliability–yes, reliability from a cellphone–were the primary factors.
"The decision was really based on speed," she says, admitting that Time staff was seeing the images at the same time their audience was. "We knew that power was going to be out, that the storm was coming very fast, and we wanted to get the pictures out as quickly as possible and as directly as possible, and we thought Instagram was a great platform to do that. We could send a number of photographers out with their regular cameras, but they would have to come back, upload the pictures, send them-we just didn't know what the state of power was going to be, where they were going to be, how much water was going to be around."
The magazine commissioned five professional photographers–Michael Christopher Brown, Benjamin Lowy, Ed Kashi, Andrew Quilty and Stephen Wilkes–renowned for their work with cellphone cameras to get out ahead of the storm and start covering the preparations within their communities (New York City, the New Jersey coastline and southern Connecticut). The whole project came together in about an hour on Monday morning, according to Pollack.
The response from the public was overwhelming, she says, as the images went viral and became some of the most iconic of the storm. Time's Instagram account had gained over 12,000 followers since coverage started on Monday, while Tuesday was the fourth best day for Time.com web traffic this year. Thirteen percent of that traffic ended up on the Sandy gallery.
"It was exciting," Pollack says. "Immediate audience, immediate comments, immediate likes. It's been one of the most popular things we've ever done."
The Instagram aesthetic-using various color filters, grain levels, blurring and frames-posed an ethical question for some, but ultimately Pollack decided to allow some of the more artistic elements through.
"The information is there. It's accurate information journalistically," she emphasizes. "The decision to cover it on Instagram wasn't an aesthetic decision. It was about having a direct feed, about getting these pictures quickly by five photographers in three different regions."
The magazine is clearly standing behind that decision, as 57 of the images have been uploaded into a slideshow on Time's photo page, LightBox, while several of them-including the cover image for the Northeast distribution area-will also be repurposed for the upcoming print issue of the magazine on sale tomorrow.
To stay updated on the latest FOLIO: news, become a Facebook fan and follow us on Twitter!
Developing a Video Strategy That Works for Your Brand
Check out this related session at The Folio: Show, November 1-2 in NYC!
Video content represents huge opportunities for digital audience growth and new revenue, with some publishers going as far as to…