Pew Research: Daily Mobile, Tablet News Reading on the Rise
Over a third of respondents get news daily on smartphones and tablets.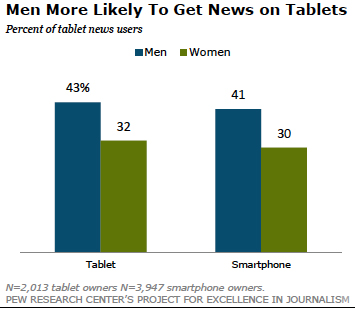 The number of people consuming news on a daily basis through smartphones and tablets is on the rise, new data from the Pew Research Center's Project for Excellence in Journalism finds. Over a third of the 9,513 adults surveyed report getting news daily on tablets and smartphones. The research was conducted in conjunction with The Economist Group and expands on an on earlier study entitled "The Future of Mobile News."
Fully 43 percent of male tablet owners consume news daily on their device versus 32 percent of female tablet owners. The gap, says the research, is nearly identical on smartphones, with about 41 percent compared with 30 percent among women.

About 43 percent of those aged 50-64 use tablets daily to read news and those 30-49 are most likely (40 percent) to read news daily on a smartphone. For individuals with a college education, about 41 percent get their news on a tablet, with 44 percent turning to a smartphone.

The college-educated get news through mobile apps to a greater degree than those with less education, says the report, and app use overall is tied to greater news engagement. Daily news consumption for those with less than a college education sits at about 35 percent on the tablet and 31 percent on smartphones.

While users over 50 are most likely to use a tablet daily to get news, those aged 18-29 touch or click on ads when getting news through a tablet to a greater extent than older demographics: Fully 25 percent, versus 12 percent of 30- to 49-year-old tablet news users, and 7 percent of 50- to 64-year-old users.

About 48 percent of men under the age of 50 get their news multiple times a day on a tablet versus just 33 percent of women under 50 and 31 percent of men and women over 50. Younger men are more active news consumers on tablet devices—in this group, about 65 percent watch news videos and 84 percent read in-depth articles.

When looking at women aged 18-49, these numbers drop off a bit: 50 percent watch news videos, 70 percent read in-depth articles and just 33 percent check news multiple times per day on their tablet.

About 59 percent of those under 50 watch news videos on a tablet, with men doing this most at 60 percent. Tablet news users aged 18-49 are most likely (37 percent) to share news on a social platform compared with those 50 and over (21 percent). While men watch more news videos on a tablet, more women use social networks daily on their smartphones—53 percent compared to 39 percent of men.

Regardless of device or education level, readers seem to prefer reading news on a tablet or smartphone's Web browser instead of an app. Roughly 60 percent of tablet and smartphone news users mostly use the browser for reading news while about a quarter mostly use apps, with the remainder being mixed.

Many Readers Prefer Print Like Experience

Pew's data shows a heavier preference towards digital daily news reading, making the shutdown of News Corp's The Daily, according to this research, a bit of a surprise. However, the data shows that while mobile is on the rise, there are still roots in print.

About 60 percent of those under 40 prefer a traditional "print-like" reading experience on their tablets, compared with 40 percent of respondents of the same age group that prefer interactive experiences. For those aged 40-plus, about 41 percent prefer interactive reading experiences on their tablets compared with 57 percent that prefer "print-like" experiences.

While users of all ages are actively reading content, they are not actively paying for it, as the graph below shows: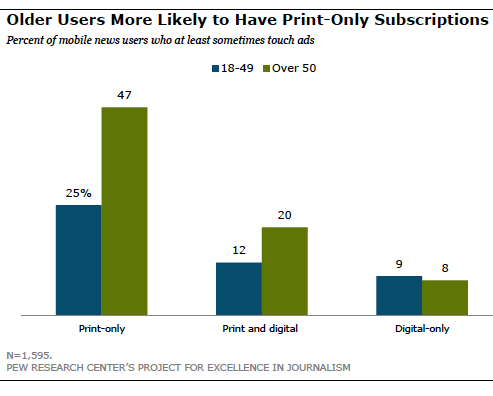 12/12/2012