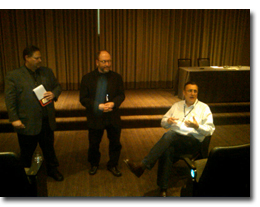 The Western Publishing Association had its annual conference Friday in Los Angeles after a layoff of a couple of years. Called WPA Media Publishing Conference 3.0: Navigation. Innovation. Growth, the event was lightly attended, with perhaps 100-120 total attendees, including speakers and exhibitors. (Pictured to the right is the closing panel: Rick Calvert, CEO, BlogWorld & New Media Expo; Jordan Gold, VP, products & content, Freedom Interactive; Dan McCarthy, partner, DeSilva + Phillips. Pictured below to the right is the closing panel audience.)
But the content was often quite strong, and as with all face-to-face events, there are always important snippets of insight and business approaches worth holding on to. Following are some of the highlights.
• Paul Miller, CEO of UBM Electronics and UBM Canon, on the future of his business: "I don't think advertising is the future for us. We're engaged in marketing services and e-commerce."

• Also from Miller: "The tech-publishing sector is the front seat of the roller coaster."

• Dan McCarthy, partner at DeSilva + Phillips, in the executive forum: "The holy grail is to push your way into your audience's workflow. Salespeople need the tools to say, 'This is exactly what I've given you, but what are you giving me credit for?' Counting outcomes is the single biggest practice that needs to move from digital to print."

• 1105 Media CEO Neal Vitale, during the same session: "Prepackage what it is you want your client to know."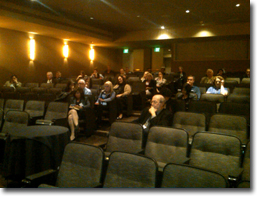 • McCarthy in the same session: "Clients stop doing business with you not because your results are bad, but because your customer service is bad."

• McCarthy during the closing session: "There are three trends in companies that are doing really well. First, demand value for the things they think are valuable. They sell something. Second, they build their companies around technology, including emerging ones. And third, they have people of all ages working at their companies. They don't need young people, they need smart people able to learn new things. And here's another: They are increasingly willing to partner."

• McCarthy during the closing session: "The position of 'chief digital officer' is window dressing. It makes me cringe. The guy or woman who runs the company should be responsible."
Secrets of the Top Editors: Peer-to-Peer Conversations
Check out this related session at The Folio: Show, November 1-2 in NYC!
Whether B2B, association, consumer or regional, all magazine editors face many of the same issues. It's not just about coming…