Niche-Market B-to-B: Where Print Launches Continue to Flourish
An indy publisher describes the mechanics of a magazine startup.
In an era when the focus is overwhelmingly on digital media, a surprisingly robust number of print titles have launched in 2012—more than 130, according to MediaFinder. One of them is Ratchet+Wrench, a title that serves auto-care center owners and operators, and is published by 10 Missions Media.

FOLIO: wanted to get at the psychology of a print launch in a digital age, so we checked in with Jay DeWitt, president of St. Paul, Minnesota-based 10 Missions Media, on his plans for Ratchet+Wrench, which will be published with a monthly frequency. The 13-year-old 10 Missions Media (formerly DeWitt Publishing) also publishes Fender Bender and expects revenue to exceed $3 million this year.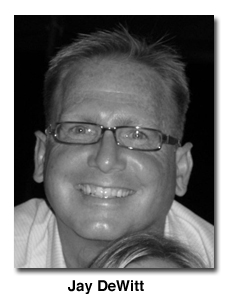 FOLIO: How did you identify the opportunity to launch this magazine?
Jay DeWitt: Ratchet+Wrench's sister publication, Fender Bender, serves the collision-repair industry. We have four regional editions of Fender Bender, and working with a lot of our advertisers—we have over 500 advertisers with Fender Bender—led us to the understanding that the auto-repair market had the same needs. The demographics of the people running those businesses are very similar to those running collision repair shops. They're usually technicians turned owners.

Advanstar and Babcox are in both of these markets. We know how they're underserving the market in the collision-repair industry, and we knew they were underserving the mechanical market as well. Once we did research, it was a no brainer that there was a real need for a publication like Ratchet+Wrench in the space.

FOLIO: Why a print magazine in 2012?

DeWitt: There are a few reasons. Number one, the audiences we serve have been severely neglected by other media companies with outdated content. There are a few legacy publishers serving our readers and you can tell they are legacy publishers because the publications look and feel like "your grandfather's magazine" without an eye to the here-and-now and future. We've set out to change that, giving them what they want and need, both in content and design.

The second reason is we've noticed a "trim, trim, trim" mentality from our competitors. They aren't investing in their properties, but rather appear to be on life support. To us, this is an opportunity. We are investing and will not compromise quality. Our readers and advertising partners deserve the best, and we're committed to delivering that. It's clear our competition isn't committed to working hard to produce quality content and we're ready to parlay on that.

Lastly, our research shows that over 85 percent of our readers still prefer to receive their content in print. Although we'll have a robust digital play, print still rules our markets.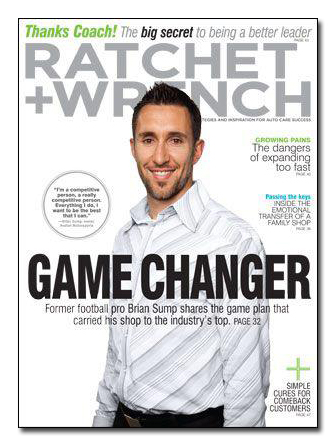 FOLIO: You're starting with a circulation of 100,000. How many are subscribers as of now?  Also, you have more than 400 advertisers and 200 pages for this first issue. That's pretty good. How did you do it?

DeWitt: We're 100-percent targeted media and we do have some subscribers. Since we're in the b-to-b space, we want to have a 100-percent requested circulation at some point in time. Because of our synergies with Fender Bender, we started marketing several months ago that Ratchet+Wrench would come in July. As time moves along the goal is to be 100 requested. Did we "pre-sell" before issues hit the consumer? No we didn't—it's one thing to tell them this magazine is going to be coming for them and try to explain what it is, it's another to have it in front of them and asking them to qualify at that time.

On the advertiser side, we were able to leverage our connections from Fender Bender. We had several years of relationships with Fender Bender advertisers, and we used that to pre-sell them into Ratchet+Wrench. And we have a magazine that is profitable right out of the shoot.

FOLIO: 10 Missions is a small, independent publisher. How do you plan to go up against your competitors—Babcox, Advanstar and others?

DeWitt: We have no venture capital and no one to please other than ourselves. Advanstar is huge, and Babcox is quite large, and was once owned by venture capital—we've seen over the last few years that because they're highly leveraged they're not making investments in their brands. We're continually making investments in our brands. We have dedicated editorial people on our products and a great deal of human capital. We're also making investments in production, paper quality and other things of that nature, instead of cutting costs.

The difference between an independent publisher and a big-box publisher is we're able to narrowly focus on the audience that we're serving. We don't have a need to operate on pennies and we can be more dedicated to our markets. We're focused on serving the reader and less concerned, with having to wake up and look at the bottom line everyday, though that, too, is a driving force. It's been a key to us being successful over the last couple years.

FOLIO: Talk about your digital strategy.

DeWitt: Fender Bender is a BPA-audited title and we file a brand report with BPA. We're not just sharing our print subscribers, we're sharing all of our various channels to capture our total brand reach. We're going to be very deliberate with Ratchet+Wrench and we're going to walk before we run. The goal will be having a model similar to Fender Bender.

We won't be moving into the e-newsletter space right away because we have to build our audience file first. Eventually we will provide daily news updates online, a full archive of back issues, and we'll break our site into what we consider strategy channels—various parts of the business that the audience wants to look at. Daily newsletters will come after we start our daily news updates, because we believe if you can't do it right, don't do it at all.

As with Fender Bender, we'll move Ratchet+Wrench into the HTML5 space in the fourth quarter. We have an iPhone and iPad app for Fender Bender, and we'll also have that for Ratchet+Wrench. We're taking a very deliberate, slow and steady pace. We know we need to build our audience before we can really move and leverage our digital business.

With social networking, if you look at Fender Bender, we have a LinkedIn group that has in excess of 2,500 members. We're the only media brand that has that type of group in our space, and we're also the only one in the mechanical-market space. We add anywhere from 50 to 100 members a week to our professional collision-repair group. We've created a Ratchet+Wrench group for auto-care center pros that will be marketed in the magazine and online. With Fender Bender, we have almost 1,000 Facebook fans and we'll be pushing the same for Ratchet+Wrench. We have our eye on a full audience experience but we know one thing has to come before another.
 


07/17/2012