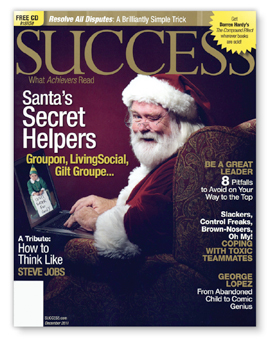 THE PATIENT: Success
AGE: 114 years
VITALS: Improving
PROGNOSIS: Good
The kind of high-profile success that Success' readers desperately desire has largely eluded the magazine itself over the course of its long life. The title has encountered at least two near-death experiences, yet fought back to publish another day. On that basis alone, some may award this book a medal for its mettle.
The most recent incarnation of the magazine, which emerged from ownership's self-induced coma in 2008, shows promise. (Its claimed, unaudited, circulation is 200,000.) It also shows how challenging is the job of editors who run inspiration-and-advice guides.
How many ways can you persuade readers to pay for a magazine that exists almost solely for the purpose of encouraging their (sometimes unrealistic) ambitions?
What We Prescribe
• Who runs this book, really? An editorial director, an editor-in-chief, and an editor all get credit. Confusing, no?—and troubling as well. Another issue: Names of everyone in the ad sales and marketing departments are accompanied on the masthead by contact details. No such info for the edit staff. Together, these decisions suggest to the Magazine Medic that the book is driven by the business side. Nothing out of the ordinary there, but we see it as a prescription for a compromised editorial mission. At the very least, tell readers how to reach editors.
• Success does an admirable job of mixing it up—adding first-person tales of winning strategies, celebrity profiles, and sure-fire counsel to the editorial salad. The problem is execution. One area in particular that could stand improvement: Headlines and decks, which too often are ill-conceived. We need to know, immediately, who these story subjects are and why they matter.
• Cultivate franchise writers and columnists for Success. It's comforting to open the book and notice familiar names, such as leadership guru John Maxwell and celeb physician Mehmet Oz, but haven't we seen them elsewhere? As in everywhere? Far easier said than done, we know, but creating a stable of Successful columnists, such as biz books Fortune and Forbes have managed to do, is a clear signal to readers that we too have our in-house stars.
• Reduce the size of the Tech Tools section. These days, honestly, it's damn near impossible to keep on top of these ever-changing toys on the daily gizmo blogs. Trying to recommend cool products in a long-lead monthly magazine is a dangerous gamble. Inevitably, as we have seen many times, magazine editors will anoint a gadget a good bet—only to discover weeks later that the industry and consumers have already said, "Uh, not so much."
Prognosis
Especially in times of economic woe for so many Americans, this is a magazine worth nourishing back to health. Its sweet smell of success may return yet again.
A well-known reporter, writer, and editor—at Time Inc., Primedia and other American publishing companies—Cable Neuhaus has frequently been called on to help create, repair, and run consumer and trade titles of various kinds.
Secrets of the Top Editors: Peer-to-Peer Conversations
Check out this related session at The Folio: Show, November 1-2 in NYC!
Whether B2B, association, consumer or regional, all magazine editors face many of the same issues. It's not just about coming…