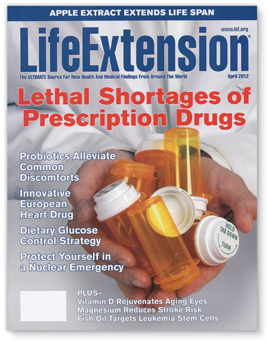 THE PATIENT: Life Extension
AGE: 16 years
VITALS: Stable
PROGNOSIS: Very good.
Magazine fixers are accustomed to sloshing around amid editorial entrails and sickly house organs and the gooey back-office stuff that shouldn't be visible to the non-publishing public.
However, the rise of magalogs—the unseemly mashups of legit magazines and direct-marketing catalogs—leaves us with deeply ambivalent feelings: On the one hand, magalogs are a blood relative of the real deals, and as such they deserve our attention; on the other hand, they are bastards.
Let's face it, most magalogs are filled with blather and bunk. In a stronger jobs-producing economy, few self-respecting magazine makers would choose to examine, let alone intubate, a feeble magalog. But in America 2012, mag makers need to find any means to feed their families.
Life Extension, based in Florida, is one of the most visible magalogs out there. Its owner, the Life Extension Institute, which sells an extensive line of self-branded health supplements, not only pushes subscriptions for its monthly magalog, but places it on newsstands as well.
 
What We Prescribe
• Life Extension, which claims to be "the ULTIMATE Source for Medical Findings From Around the World," may or may not be dispensing medically sound advice, but the fact that nearly every report is immediately followed by an advertisement for a related LE product gives us the heebie-jeebies. We know, that's the way magalogs work, but there's a better way. Let's try a smidgen of subtlety, let's try respecting the audience's intelligence, let's try not cramming 1-800 customer-order numbers onto quite so many pages.   
• Should the editor of Life Extension remake it in the image of a full-blown consumer magazine or, alternatively, even more like a garden-variety catalog? Not an easy call. Right now, the product uncomfortably straddles that divide. We'd suggest "try more magazine-like"—if only because it might boost readership, and that's a worthy goal. Presentation-wise, think in terms of Scientific American, but don't allow that to leach over into any silly notions of grandeur.     
• Consider a swap: Reduce the quality of the paper stock and invest instead in more sophisticated design. That glossy paper is sweet, but the whole thing still basically screams, "Yeah, this is a catalog!"   
Medic's Note
With a population that's been trained to consume supplements for every medical worry, many Americans are predisposed to love Life Extension. Consequently, the Magazine Medic believes this magalog, especially if it takes our medicine as advised, is positioned to thrive long into the future.
A well-known reporter, writer, and editor—at Time Inc., Primedia, and other American publishing companies—Cable Neuhaus has frequently been called on to help create, repair, and run consumer and trade titles of various kinds.
Pay-to-Play: How to Use Paid Ads on Social to Amplify Your Brand's Content
Check out this related session at The Folio: Show, November 1-2 in NYC!
Many social networks are turning to paid posts as their main source of revenue—none more so than Facebook, Instagram and…