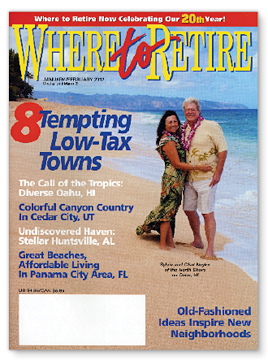 THE PATIENT: Where to Retire
AGE: 20 years
VITALS: Good
PROGNOSIS: Positive if patient is
willing to make changes.
Who doesn't harbor dreams of a happy, active retirement in a (choose one): beach house/mountain retreat/golf community/island condo? Even the Magazine Medic, who truly loves his work, imagines one day trashing his toolkit and livin' easy in a yet-to-be determined paradise.
But where? Cue Where to Retire, a magazine born on a bet that America's aging workers were all busy fantasizing about cloudless climes elsewhere. It was a great idea.
Unfortunately, the magazine hasn't changed enough over the years. The housing market, meanwhile, tanked. Household "wealth" is, for many, but a sad memory. And many retirees are staying put, albeit reluctantly.
Where to Retire hasn't been entirely blind to these economic calamities. It's responded by slightly reshuffling the edit mix. In particular, you'll see lots more about vacations. The obvious thinking here: If you can't afford that luxe kick-back pad when you exit the workforce, maybe there's enough cash remaining for a few decent getaways.
What We Prescribe
• Number one, let's immediately infuse some cred into this patient. Most of Where to Retire's stories practically drool over the wonders of its featured towns. C'mon, tell your 200,000 readers that sometimes a place is not all it's cracked up to be by its visitors bureau. That's your obligation. Your readers will be the better for this honesty—and so too will your advertisers, who, even in a book like this, are banking on readers' trust of the surrounding edit. We realize that risking the wrath of advertisers is a sacrilege in our business, but it's often exactly what makes a magazine valuable to its prime asset, its readers.
• Ever heard of white space? Don't go looking for any here, and don't even enter if you're the slightest bit claustrophobic. (On the other hand, some of the magazine's infographics are excellent and just need to be aired out.) Covers: Where to Retire needs to produce some that don't look nearly identical to the ones that just preceded it. Finally, while designers are completely revamping the magazine—the sooner the better, we say—don't forget to send the logo to its much-deserved retirement. It emphasizes the word to, which is just plain wacky.
• Re-set navigation throughout, and recalibrate the pacing, aiming for less of a bargain-hunters' vacation-catalog sensibility. Be far more transparent about what's editorial and what's advertorial. Assign feature photography that's unblinkingly journalistic.
Medic's Note
If the magazine can see its way clear to respecting readers more, its owners can one day retire with a clearer conscience.
A well-known reporter, writer, and editor—at Time Inc., Primedia, and other American publishing companies—Cable Neuhaus has frequently been called on to help create, repair, and run consumer and trade titles of various kinds.
New Ecommerce and Paid Content Models
Check out this related session at The Folio: Show, November 1-2 in NYC!
Media companies responding to challenges in advertising are looking harder than ever at ecommerce, both selling products to readers and…