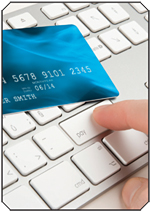 Publishers look to cash in on the lucrative e-commerce business as they continue seeking alternative revenue streams beyond print advertising.
It is no surprise to anyone at this point that e-commerce is big business: Consumer spending in the category rose to an all-time high of $161.5 billion last year, according to comScore, marking a 13 percent increase over the year before. As magazine publishers continue seeking ways to diversify beyond print, online retailing has emerged as one of the most prominent game-changers, a trend that may likely accelerate with the widespread adoption of tablets and e-readers.
Hearst, for example, which has made strides in e-commerce on several fronts, has been working with Amazon for some time now, making editorial content in its digital editions "click-enabled" and receiving a cut of revenue from items sold through that process. While its CLAD initiative—a collaboration between Esquire and J.C. Penney—was shuttered shortly after launch, the company has seen success through its partnership with Pixazza Inc., which integrates e-commerce with advertisements on sites such as HouseBeautiful.com.
Enthusiast publisher F+W has taken an all-in approach, as it opened its 26th standalone online storefront last summer, citing a 50 percent year-on-year increase in e-commerce revenues. At the time, CEO David Nussbaum told Folio: he expected e-commerce to be his company's second largest, if not the largest, business by 2014.
Other publishers have dipped in through smaller partnerships. Inc. partnered with daily deals service RapidBuyr to form a new Inc. Deals section for its website. Women's Health, Sports Illustrated, Self and Vogue are just a few titles to partner with online retailer Gilt Groupe. Gilt itself has crossed over into the magazine business, as it recently joined forces with Niche Media founder Jason Binn to launch a luxury magazine, Du Jour, a quarterly print title with monthly digital editions linking content to online retailers' sites.
VITAL STATS: E-commerce spending reached $161.5 billion in 2011, a 13 percent increase over the year before. According to GfK MRI, 70 percent of tablet owners want to buy items through ads in digital magazines.