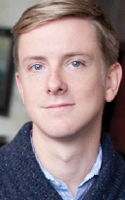 Owner, Editor-In-Chief, Publisher
The New Republic
Age: 29
Takeaway: Chris Hughes, a co-founder of Facebook, bought a majority stake in The New Republic, a struggling, 40,000-circulation title, in March. He's currently leading a major overhaul of the brand platform, planning a simultaneous roll-out of the brand on the web, mobile, tablet and in print.
The New Republic, a title covering the cross-section of politics and culture, is two-years shy of its 100th birthday. Yet the magazine has had a tumultuous few years, bouncing between owners—a Canadian media conglomerate called CanWest and the magazine's previous editor-in-chief and long-time part owner Martin Peretz—before Chris Hughes bought a majority stake in March with the intention of reinventing the brand's long-form journalism for the digital age.
"My interest in The New Republic was the opportunity to take this historic brand that's been around for nearly 100 years and that has stood for smart, thoughtful, political and cultural coverage and try our hand at reinventing the title—holding on to those core values, but also putting a significant emphasis on smart storytelling and digital delivery mechanisms," he says.
Hughes, who co-founded Facebook, is plowing his own money into the brand's relaunch and is putting a particular focus on its digital platform. The website's paywall was scrapped right after Hughes bought it and a soup-to-nuts redesign is planned for the entire product platform. (For a more in-depth look at the plans, turn to page 54 for a Q&A with Hughes.)
"The idea is not to just redesign the magazine from an aesthetic perspective but to rethink how the content is created, developed and then, most importantly from a digital perspective, delivered," says Hughes. "Integration has previously not been a value, but it's at the center of all the reinvention that we're doing."
While Hughes is making a considerable investment in print he makes no bones about digital's ascendancy. "I do think that from a strategic view we have to be laser focused on getting the digital implementation of our product right. Because even if print is important now, in the next few years digital is going to be even more important."