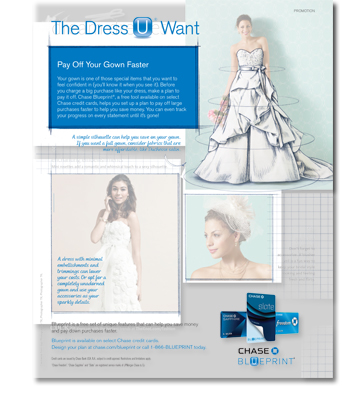 From an advertiser's perspective, there are few things to get more excited about than weddings. You can't have one without pulling out the credit card, which gave rise to an integrated marketing program that wedding specialists The Knot launched with Chase.
Central to the campaign was utility. Couples that are about to get married are essentially embarking on a spending spree and what better way to introduce an advertiser than during the highest spending stages of the process? Yet, for Carrie Reynolds, vice president of sales, branding alone wasn't enough. "We wanted to make sure this was focused on delivering solutions for the customer in authentic ways," she says. "We looked at all the different places the customers were going to make their decisions and we planned to connect with them during the highest-spending parts of these different stages—we wanted to integrate a conversation into those areas."
Chase was looking to promote its Blueprint brand of credit cards and needed a campaign that could showcase it as an authority on financial responsibility. "Like a lot of customers these days, they are looking for conversation and authenticity," says Reynolds.
Reynolds and her team crafted a program that included print, video, social and online elements that were attached to specific parts of the spending arc that wedding couples typically go through—the dress, reception, new home furnishings, baby room, and so on. "We pulled all those elements together and created a custom hub that housed them all—a video series, case studies, and so on—and each was focused on specific solutions," says Reynolds.
The content hub gathered the various elements together in one spot, but individually those assets were also spread across XO Group's brands—TheKnot.com, TheNest.com and TheBump.com. A custom video series, for example, appeared on all of the sites, and Twitter chats were created that featured conversations with financial experts and XO Group editors.
In print, Reynolds wanted to avoid the typical advertorial approach and devised a way for Chase content to interact with edit without actually integrating the two. While The Knot magazine acts as a source of inspiration, and the Chase content was printed on vellum inserts that layered messaging on top of the fall issue's content. One insert touts Chase Blueprint as a way to "Pay Off Your Gown Faster" and overlays a pictorial of wedding gowns.
Pricing these programs comes down to measuring production time along with the value of each media. "The way I look at it is production, people's time and the value of the media," says Reynolds. "It's pulling those elements together and the value of the media is based on impressions and how we're pushing it out. We don't do the 'if you by 12 pages we'll add this other stuff.'"
Audiences, Marketing and a No-Holds Barred Peer-to-Peer Conversations With Your Fellow Pros
Check out this related session at The Folio: Show, November 1-2 in NYC!
The marketing department is at the crossroads of the most dramatic changes occurring in media: Digital marketing, content marketing, lead-generation,…