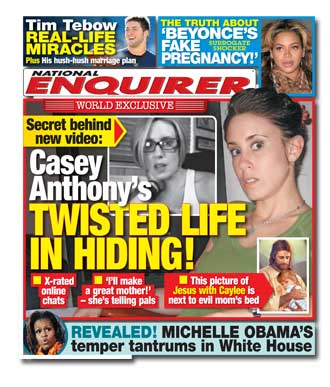 American Media Inc. [AMI] is hoping to revitalize the age-old grocery store tabloid, the National Enquirer, with a tablet app aimed at younger audiences. The company will roll out a tablet-only edition in February that will feature content exclusives focused on gossip.
 
"The starting point will be the print edition," says David Perel, AMI's editor of digital entertainment content and the publication's former editor in chief. Perel and a team of AMI media professionals will analyze the print edition to decide which stories will translate well to the tablet version.
 
"The better news stories and the stories that will appeal to a younger audience will be included," he says. "Those stories will go to a different editorial team that will rewrite them and sometimes supplement them with new information. We'll be able to use staff from other publications to supplement material specifically geared toward this audience."
 
Perel was one of the individuals behind AMI's relaunch of Radar Online, the entertainment and pop culture website focused on celebrity news. The site now has roughly 4.7 million unique visitors and 34 million monthly page views—a 102 percent increase and a 190 percent increase, respectively, since the site's launch in 2009. Perel is hoping to translate Radar Online's success to the new app.
 
"With Radar Online, we had a brand that was not nearly as well known as the National Enquirer," he says. "We took that and decided to make it an entertainment news site and three years later we've been successful in that. For me, the thinking at that point was it didn't matter what the name was—you can take a website and put almost any name on it as long as you get your message out and deliver the content consistently. With Enquirer Plus, which is the name of the app, it's different. The National Enquirer is probably the best-known source of gossip in the country so I think it's an advantage that we have a starting point with a well-known name. The challenge that we face will be to reinvent it for a younger audience and develop that younger audience with the type of content that will be on there."
 
Perel says that for individuals who don't read the print edition, this will be a different product focused on breaking news, video, interactivity and bonus features to target the younger demographic. AMI's other brands, like Star, OK! and Soap Opera Digest magazines, among others, will be used to market the new app, which will cost 99 cents a week or $2.99 a month for a subscription. So far, the app will be available for the iPad with other devices to follow in the coming months.
 
"Unique content will start right from the beginning now, when you send reporters into the field they all have mini-HD cameras to shoot original video," he says. "With Radar Online, we generate unique material that we share with various TV programs—we get on those shows and our reports and stories are on TV almost everyday, which is how we were able to build the brand so quickly. With Enquirer Plus, we will incorporate that type of strategy so that when we get original material not only will it be in the print edition but there will be other material you can't find that will be in the app. We'll share some of that cross platform with other media outlets to help promote awareness of Enquirer Plus and drive people to the brand."
Growing & Leveraging Your Audience Database
Check out this related session at The Folio: Show, November 1-2 in NYC!
Audience data is more expansive and insightful than ever. Audiences exist in an array of silos—print, mobile, web, events, email,…