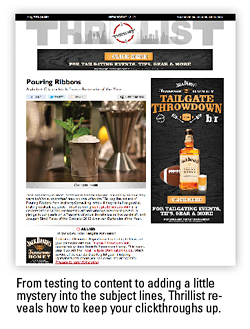 For many magazines, the majority of online traffic is derived from a key aspect of the publishing business: e-newsletters.
Smooth delivery, opens and click-throughs are a perennial priority, one that Thrillist has built its business around. The company's foundation is a free, subscriber-based e-mail newsletter business, delivering localized content on restaurants, nightlife and retail outlets for urban 20-and-30-something men. The brand has about 3 million daily subscribers and projected 2012 revenues are in the range of $60 million.
Here, Thrillist's John Wiseman, the company's vice president of marketing and partnerships, delivers six tips to boosting the bread-and-butter of the e-newsletter business: open rates.
1. Building Sustained Readership
"A key component is great content—without it, people will probably not even open the first email. Our editorial team consistently seeks out and shapes stories that are timely and deliver fresh content that is actionable and entertaining."
2. Subject Lines
"You have to have amazing subject lines. You do this by being timely and speaking to what's current. You can use context that is out in the world that can directly or obliquely speak to what the core of your business is. You should also use a dash of mystery. One of the subject lines we've used in tests is 'Get Your Mind Blown.' Readers wonder what that means, and it makes them want to open it. When they open it, you connect the subject line to the content. Inside, we have 'Find The Most Mind Blowing Restaurants in Your Neighborhood With Thrillist.'"
3. Imagery
"We include amazing photography. Images can connect the subject line with the content, while using that dash of mystery in order to get people in. One tricky part of that is with the ascendency of mobile—you need to have quick loading emails, and a content distribution network that will deliver your images quickly."
4. Device Compatibility
"You need to make sure that your email looks good in a variety of different browsers, and with mobile. We're working on a mobile-first priority in terms of how our emails render. The ratio of people reading Thrillist on iOS devices has gone up over 800 percent in the last 12 months."
5. A/B Testing
"We can do some really interesting things with our email provider, like a 10/10/80 split. About 10 percent gets one subject line, another 10 percent gets a different subject line, and whichever one wins within the first half hour, then the winningest subject line goes out to the remaining 80 percent. It's helped us to understand which type of subject lines have performed over time."
6. Traffic Sources
"It's important to examine where your subscribers are coming from. Segmenting them can be very helpful in reaching each different segment. Focus on the sources that bring good, engaged people rather than generating a huge audience that may or may not read."
How to Create Your Most Detailed, Effective Attendee-Marketing Plan Ever
Check out this related session at The Folio: Show, November 1-2 in NYC!
Promoting your next event doesn't start 12 weeks out, or even six months out. It starts before this year is…