Matt Brown
Editor, Nevada Magazine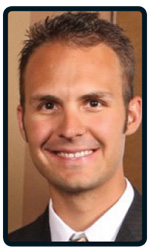 Matt Brown has lead the 75-year-old publication's redesign, as well as the Web site redesign and has single-handedly grown the magazine's social media presence.
Nevada Magazine is essentially part of the Nevada Commission on Tourism.  When it experienced budget cuts, like all other state agencies in Nevada, and lost its circulation manager, editor Matt Brown responded by aggressively promoting the magazine in a variety of ways.
"I think the modern editor has to operate in multiple dimensions today—and that's posting an amazing picture on Flickr from an upcoming article, or an informative  posting on Twitter or Facebook to drive traffic to your Web site, and then making your Web site look and read as well as your print magazine does," says Brown.
He also launched an e-newsletter, and says, "The tricky thing is to offer just enough for free that they want to subscribe. The e-newsletter has been very successful. When the print magazine hits the newsstand the newsletters goes out a week later, and teases the articles, and asks readers to connect on Facebook or to go take a poll on the site."
In 2010, Brown worked with students at the University of Nevada Reno on how to improve the marketing of the magazine. "I explained to the students that we essentially produce two magazines: we print Events and Shows, most of which are distributed at the Las Vegas airport. But all of that content goes into the back of the bi-monthly Nevada Magazine.  In a semester-long project, the students had to come up with ideas on how to promote the magazine with no marketing department, and no marketing budget." One idea was to make Events and Shows more Vegas-centric, in order to appeal more directly to Southern Nevada advertisers.
As a proponent of social media and new technology, Brown finds himself using Facebook to help flesh out articles with reader feedback.
Looking forward, Brown thinks the next big move would be to create a mobile app. "We would like to start an e-subscription as well, but one thing we would like to use mobile apps for is the Events and Shows magazine, so that we could enable ticket sales right through our app."

VITAL STATS: The Nevada Commission on Tourism prints 100,000 copies of Events and Shows, most of which are distributed at the Las Vegas airport, and Nevada Magazine has a print run of 30,000, with 15,000 subscribers. Â 

04/20/2011