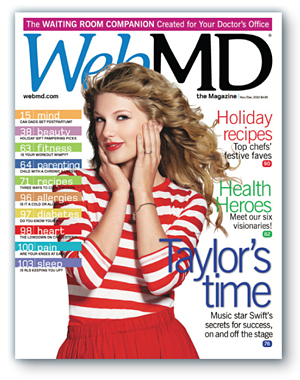 THE PATIENT: WebMD the Magazine
AGE: 6 years
VITALS: Normal
PROGNOSIS: Good, but requires attention asap
What the medic observes today is a specimen that is more than a little familiar—a magazine of a type normally found in physicians' dreary waiting rooms all across the country.  And yet, at the same time, it is alien. 
Unlike most tattered mags tossed around medicos' suites—the years-old newsweeklies, the Peoples, the Model Railroaders—this one is a curious hybrid.  It's a serious magazine about well-being grafted onto the celebrity-worship paradigm that has long defined popcult America.  Little as we admire this tired marriage of Hollywood and health, we know it works.
Relative newcomer WebMD, torn from the ribs of the eponymous Web site—and less than half the circ of category-leader Prevention's 2.8 million—gives barely a nod to men. This book is decidedly for women. Presumably sick women, or those who don't want to be sick, which is why they are hanging out in M.D.'s offices.
What we have here is a smartly imagined (some might say cynically developed) book that, with the help of doctors everywhere (90 percent of U.S. practitioners showcase it, the publisher says), has found a slick circulation lubricant for tough times.
How, though, is WebMD not simply a copycat of Prevention, Health, and a smattering of other similar titles?  Mainly, it differentiates itself by carving out a more authoritative niche, and of course, by its physical proximity to actual practitioners. 
Many major pieces carry a standard byline, but then also credit a reviewer, a specialist who apparently has vetted the writer's work. It comes off as an awkward contrivance for a consumer book, not because of the concept but rather because of the execution.
Right off, we ask:  If this is meant to be read in a waiting area, why is it so ginormous? WebMD is bloated. And for a magazine that sports such lovely stock, why is there so little knock-out art, so few gorgeous spreads, such lack of typographic craft?   
 
Prescription
The positive news for our patient is that not a lot of attention need be administered to yield dramatic improvement.  Mildly sclerotic arteries, superficial blemishes, and the like can all be treated without the use of a scalpel.
• Let's begin with the two-page TOC. It's a mess. Pull it together, help the reader understand how this magazine is organized.  Then do the same with the front of the book, which zigs, zags, leaps and retreats in mysterious ways. It needs to be thematically unified, with section names that make sense.  (What does "People and Pages" mean, really?) 
• Play up the "Ask the Experts" section.  This gets to the very heart of WebMD's compact with its readers. Why allow it to get lost amid a sea of other short departments? 
• The substantial and smartly edited "Matters" section ("Patient Matters," "Parenting Matters," etc.) requires an opener to establish its import.  Same for the big "Quiz" section in the back of the book. It just lingers there, as an apologetic afterthought. 
Prospects
The patient's circulation is robust. On that basis alone, we expect to see a long, healthy life for WebMD if doctors continue to favor it, editors vigorously massage it and readers can be tempted to steal it.
A well-known reporter, writer, and editor—at Time Inc., Primedia, and other American  publishing companies—Cable Neuhaus has frequently been called on to help create, repair, and run consumer and trade titles of various kinds. 
Secrets of the Top Editors: Peer-to-Peer Conversations
Check out this related session at The Folio: Show, November 1-2 in NYC!
Whether B2B, association, consumer or regional, all magazine editors face many of the same issues. It's not just about coming…