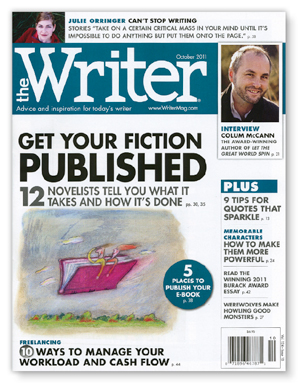 THE PATIENT: The Writer
AGE: 124 years
VITALS: Steady but weak
PROGNOSIS: Guarded
Years ago, before the Magazine Medic stocked his bag with gleaming surgical instruments, he was a faculty member at a major northeastern university, where he taught journalism and exposition to undergraduates. Most of those bright-eyed students had as much chance of developing into professional writers as they did of being asked to record with the Rolling Stones.
The point here is that the world has ever been populated by folks who wish to boast, "I am a writer." Precious few are going to score, at least financially. That's a fact.
It's for the eyeballs and checkbooks of these eternally wishful thinkers that The Writer (and the more widely read Writer's Digest) compete. The Writer, the senior-most book in this category, has found 26,000 readers willing to part with $6.95 per issue for insiders' guidance. What are these customers getting for their money? Well, probably enough to keep them coming back for a while, for that's the conceit of a tips-and-advice book: We know things you don't. The encouraging drumbeat is—must be—"Go, go, go! You can do it."
What We'd Prescribe
• The tagline—"Advice and inspiration for today's writer"—is truthful but bleh. Like so much else here, this feels like it was ripped from a 1985 mag-making playbook. Amp it up: "Get published and get paid."
• Front to back, The Writer is a sea of sameness and lameness—departments that sound interchangeable ("Take Note," "Write Stuff"), wrapped around short, often feeble features. First-person accounts of how pain eventually leads to gain are, after a time, painful to read (if easy to assign). Try grouping these heart-achy revelations tightly, organizing them sensibly, and editing them hard. Use the space that's left over for better, larger art.
• Like wedding magazines, mags for writers are a bear to edit. We sympathize with their staffs. How many themes really matter? And how often can you return to them? But look, Cosmo has found a thousand mechanical ways to arouse a man. And let's face it, that's not nearly as much a challenge as explaining how to draft a story about a dark and stormy night. "Debut Novelists on What It Takes" and "Crafting a Strong Sense of Place" are just too familiar.
• Focus more on the business of being a writer. That's where most freelancers fall down. Even when they learn to turn a phrase, they don't know how to turn in a tax return that tells the IRS a credible tale about the year's expenses and (one hopes) revenues.
Prognosis
The magazine will survive for a while because hopes and dreams are not easily snuffed. Eventually, though, it seems inevitable that the action will migrate more to The Writer's website, where the lively forums will sate readers' thirst for community and commiseration.
A well-known reporter, writer, and editor—at Time Inc., Primedia, and other American  publishing companies—Cable Neuhaus has frequently been called on to help create, repair, and run consumer and trade titles of various kinds.
Magazine Media and TV: Perfect Brand Extensions
Check out this related session at The Folio: Show, November 1-2 in NYC!
As TV programming expands dramatically, so does the need for great content and proven experts, so it's not surprising that…