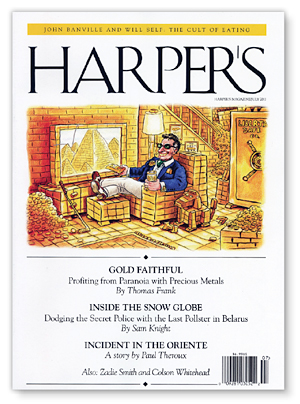 THE PATIENT: Harper's Magazine
AGE: 161 years
VITALS: Weak
PROGNOSIS: Downward spiral
We hate to see a patient hobble into our examination looking exhausted even before routine pleasantries have been exchanged. Sadder still when that patient, though aged, was once so vibrant and exalted.  But that is the predicament of Harper's Magazine, which now appears to be in failing health.
There was a time when Harper's was a VIP (Very Important Periodical), a historically significant magazine that showcased some of the most important thinkers of the day. It still publishes some fine work, to be sure, but the competition among high-culture titles is fierce, and Harper's has not kept up.
Harper's and longtime rival The Atlantic once ran neck-and-neck. Now, the former (203,000 total circ) seems to be gasping while the latter (482,000 total circ)—with a recent infusion of cash and magazine-making talent—has surged, winning readers, advertisers and trophies.
Harper's simply does not deliver enough—not enough top-notch journalism, photography, illustrations, not enough "ahhhs." (And what does it say about a magazine when its full-page ads are the most splendid-looking pages in the issue?)
Normally, we prescribe delicate measures, but with Harper's we have no alternative but to suggest scalpels, instruments for implantation and a stomach for the kind of radical surgery from which, honestly, the book might not recover.  
What We Prescribe   
• Harper's is currently less a place to present brilliant new pieces than a monthly repository of ephemera and somewhat marginal or quirky writings lifted from other sources. That's what the Web and its bookmarking sites are for. So, first of all, the magazine's editors should assign lots more original work, front to back. Push for what's provocative or counter-intuitive. Forget about book reviews; everyone publishes those.
• Rethink the presentation of "Harper's Index," which is the signature front-of-book department. A collection of ironic facts and figures, running as a full page of completely un-arted text? In 2011? You have got to be kidding.
• Introduce an editor's letter (with a picture), something to personalize the connection.
• Let's overhaul the tired design, add new departments, rethink cover concepts, focus on the magazine's voice—actually, do anything that suggests the editors understand that a magazine—no matter its venerable history—needs to constantly recalibrate to fit the times.
Prospects
Unless Harper's goes ahead with a serious, life-saving procedure to rescue it from deteriorating into total irrelevance, there's not much hope.
A well-known reporter, writer, and editor—at Time Inc., Primedia, and other American  publishing companies—Cable Neuhaus has frequently been called on to help create, repair, and run consumer and trade titles of various kinds.
Developing a Video Strategy That Works for Your Brand
Check out this related session at The Folio: Show, November 1-2 in NYC!
Video content represents huge opportunities for digital audience growth and new revenue, with some publishers going as far as to…