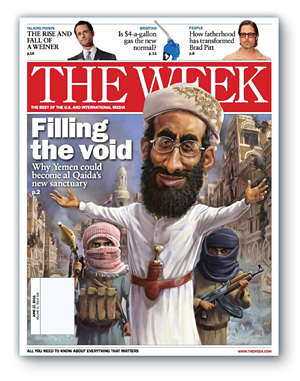 THE PATIENT: The Week
AGE: 10 years
VITALS: Strong
PROGNOSIS: Continued growth –but self-reflection is earnestly advised 
"First, do no harm." Every caregiver understands what is embodied in the meaning of that oath. It extends as well to those of us in whose trust publishers and others have put their beloved magazines.
And so today we are presented with a magazine, The Week, which by most measures is the picture of health: non-stop growth—virtually all-paid circ—now at some 520,000 subs. What on earth could the Magazine Medic do with so fine a specimen as this? Does one dare tell Michael Phelps how to swim faster?
A close inspection reveals that this weekly digest of news and views, while brilliantly edited, may be missing some opportunities.
Really? Hasn't The Week lately fattened up on readers who've bailed on the once-powerful news titans, Newsweek and TIME? Actually, no. While they would appear to be The Week's natural prey, in fact it's The Economist and The New Yorker that The Week sees itself going against. So says the magazine's president, Steven Kotok, who emphasizes another point, and this one is most telling: "We are more a service than a product."
Prescription
We laud the mission of The Week. However, great magazines sing. You flip through their pages, and one can hear a veritable opera. Do that with The Week and you hear a constant thrummmm. No orchestration. Which is to say that, contrary to what Mae West may have remarked, too much of a good thing is just plain boring.
• For starters, let's introduce some variation in fonts, colors, pacing. In The Week, the section headers and most of the major headlines are the same font. It's akin to reverse opportunism—seeing a way to help the reader discern what's what, but blatantly rejecting it. Likewise, this is essentially a two-color magazine. For the purpose of navigation alone, we'd introduce more color, possibly even keying tones to sections.
And finally—white space. There's virtually none here. Even The Economist, never known to bend a knee to trendy design, has recognized how white space can help clarify blocks of content.
• How about a TOC? We know from Steven Kotok that the staff rejects the idea. We say, forget pride: Give us a compressed TOC alongside the minuscule masthead.  It is not a sign of weakness; it is a useful guide.
• Once in a while, deliver a front cover that's surprising. The magazine may provide a valuable service, but there is no harm in occasionally dropping it into a wrapper that's charming or alarming.
• Take an occasional chance inside as well.  Clearly, readers are satisfied with the basic format, but they may eventually be lulled to sleep unless you dare break away from an editorial template that, to us, appears too constraining.
Prospects
With a formula that is working and a social-media operation that is second to none, The Week will cruise.  Whip-smart editing has brought it to this level; a little imagination can take it to yet another.
A well-known reporter, writer, and editor—at Time Inc., Primedia, and other American publishing companies—Cable Neuhaus has frequently been called on to help create, repair, and run consumer and trade titles of various kinds.
Native Advertising: Delivering for Partners While Retaining Your Brand Voice
Check out this related session at The Folio: Show, November 1-2 in NYC!
Editors have become a key part of the native-advertising conversation, as many successful media brands generate custom content for their…