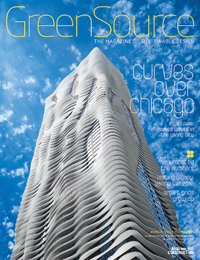 GreenSource: The Magazine of Sustainable Design serves the green-design community, educating and informing design professionals of projects, design processes, technology, products, and environmental issues in the building industry. It is published by McGraw-Hill Construction with a circulation of 45,000 a month and printed on 100 percent post-consumer recycled stock with soy ink.
GreenSource needed to develop graphical means of display that communicate data and information in an aesthetically pleasing and clear format, says managing editor Jane Kolleeny. "Case studies make up the core of the publication with technical information, weather charts, plans, illustrations and energy performance data. When we launched the publication in 2006, we developed such data-driven communications tools, but in 2009, our art department realized we were not communicating the data in as sophisticated a manner as we could."
The primary intent of the redesign was to reshape the magazine from an editorial perspective into a more coherent book to make it stronger editorially, and then to focus on creating editorial hierarchies in the structure of every page that would inform the reader as to what section they were in, according to art director Francesca Messina.
"The redesign was really an editorial reshaping, not just a new 'look' for the magazine," says Messina. "We took a more innovative approach to the presentation of the feature stories. Our intent was to partner with cutting-edge illustrators, photographers, and information-graphics designers to present the stories and technical information in new ways that would be smart, informative and visually arresting."

GreenSource doesn't 'decorate' the pages with illustration or photography. "The visual changes serve the editorial imperative," says Messina.
The response was overwhelmingly positive from co-sponsor BuildingGreen LLC, and also very positive from the sales team, says Messina. "In general, everyone who picks up GreenSource has two reactions: A visceral one to the thick, luxurious, uncoated paper stock and the lush photography, and an intellectually engaged response to the quality of the content and the mission of the magazine."