Digital Edition Briefs | 11.30.11
Pregnancy Magazine, Mag+, MyRecipes.com…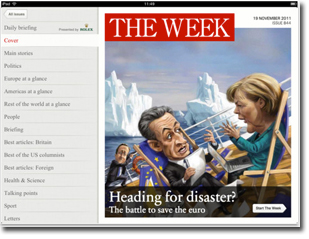 Pregnancy Magazine will be going digital in 2012, with its first digital issue available in the new year for the iPhone, the iPod Touch, the iPad, Android and the Kindle Fire. According to a news statement, advertising partners will "receive a 2:1 editorial to ad ratio in Pregnancy Magazine as well as guaranteed category exclusivity in the first two issues of the digital magazine, which offers 30 advertising categories."
Dennis' The Week launched its first iPad app (pictured). In the first twelve weeks after its November 18th launch, it will be accessible to The Week subscribers without additional cost, according to paidContent. After this trial period concludes, subscribers will be given the option to bundle the digital edition with its print product "for a nominal amount". For non-subscribers, The Week app will be available for free for the first four weeks after its launch. 
MyRecipes.com, a part of Time Inc.'s Lifestyle Group, launched its first app for the iPad. Available for $3.99, MyRecipes Daily Indulgence offers over 400 recipes in seven different dessert categories.
Next Issue Media adds new titles to its newsstand, including: Car and Driver, Coastal Living, ELLE, Golf and Real Simple. These magazines join other titles already on the newsstand, such as Better Homes & Gardens, Esquire, People, The New Yorker, TIME and Sports Illustrated. Next Issue has also entered into an agreement with Motorola, Samsung, Sony and Toshiba, as well as Verizon Wireless to have its app be "prominently showcased across multiple tablet offerings via placement on device home screens and featured app stores", according to a prepared news statement.
Digital edition provider Mag+ announces its new Mag+Go, a one-time app production solution priced at $199. Mag+Grow, a program for a single app producing multiple issues, is priced at $2,500 for the first five months, with each additional month priced at $500. Mag+Lead is a solution for companies publishing multiple apps with multiple issues, and is priced at $3,000 a month. Other new features from Mag+ include music capability, playlists, email/Twitter share and customization.
The Economist debuts a new iPad app "The World in 2012 from The Economist: Editor's Highlights". The app is sponsored by BMW, and is free through the App Store.

11/30/2011