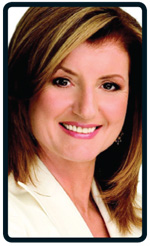 HuffPo's $315 million sale showed that digital content can bring the big bucks. But will Huffington put a premium on original content or fall back on aggregation and unpaid contributors?
Most of the dotcom media deals earning big bucks over the past year weren't necessarily content acquisitions (think Hearst's $325 million purchase of digital marketing agency iCrossing).
However, AOL's acquisition of Huffington Post for $315 million (announced one week after Newsweek and The Daily Beast completed their merger), showed that content deals still had legs.  
The Huffington Post generated $30 million in revenue and 26 million unique users in 2010, according to comScore. In a conference call with analysts, AOL CFO Arthur Minson said Huffington Post could generate $50 million in revenue in 2011.
Huffington Post founder Arianna Huffington took over AOL editorial operations going forward. Huffington herself made out well in the deal, reportedly receiving $110 million. After the deal was announced, Huffington reportedly toasted her colleagues with "champagne and Greek cookies."
The merger prompted hundreds of layoffs of AOL staffers and Huffington embarked on a strategy of recruiting editorial talent (including hiring 17 new journalists in one week, such as John Montorio, former managing editor of The Los Angeles Times as culture and entertainment editor and political writer Jon Ward from News Corp.'s The Daily).
That's a departure from AOL's content strategy which emphasized, quick, low cost editorial through initiatives such as local news network Patch (AOL also made several recent high profile content acquisitions, such as TechCrunch).
However, Huffington Post itself has taken a lot of knocks for building its business partly by using unpaid bloggers and generating "SEO bait"—content of little value designed to score high on search engines. Those knocks became official with The Newspaper Guild, a union of media workers in the U.S. with 26,000 members, calling for HuffPo contributors to stop offering free content.
The guild went on to call for Huffington Post founder Arianna Huffington to "demonstrate her commitment to the working class she so ardently champions in her writing."
VITAL STATS: Huffington Post generated $30 million in revenue in 2010 and is estimated to reach $50 million in 2011.