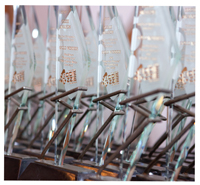 The Eddie and Ozzie awards recognize excellence in magazine and digital editorial and design. The awards draw by far the widest variety of publication types—from b-to-b to consumer to association and custom—and our industry is particularly proud of its creative output. The following pages reveal the winners in their respective categories.
Click here for a full listing of Ozzie Award Winners
Click here for a full listing of Eddie Award Winners
OZZIE GOLD WINNER PROFILES

EDDIE GOLD WINNER PROFILES

Profiles written by Brian Kelly, Diana Kelly, T.J. Rafael, Matt Kinsman and Tony Silber. 
Developing a Video Strategy That Works for Your Brand
Check out this related session at The Folio: Show, November 1-2 in NYC!
Video content represents huge opportunities for digital audience growth and new revenue, with some publishers going as far as to…