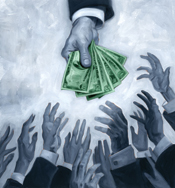 Compared to 2009, just about anything short of product closure in 2010 could be considered an improvement for b-to-b publishers.
But where are the dollars going? While b-to-b publishing executives saw print account for 52.4 percent of total revenue in 2009, they anticipate print dropping to 47.5 percent of overall revenue in 2010, according to the latest FOLIO: B-to-B CEO Survey, conducted by Readex Research [for full results of the survey, click here]. That's the first time print has fallen below 50 percent of total revenues for b-to-b publishers as a whole, according to the FOLIO: surveys.
Meanwhile, paid subscription is the only other area b-to-b executives expect to drop in 2010, down from 7.3 percent of total revenue last year to 6.9 percent this year. But as integrated packages become the norm, it's becoming harder to distinguish between revenue streams.
From Advertising to Marketing: Accessing a New Type of Budget
Publishers are seeing clients shift away from traditional ad campaigns to programs that are sponsor-specific. "The advertising dollars are going into our customers' own Web sites," says Paul Miller, CEO of United Business Media's EE Times Group.
That means fewer dollars coming from the advertising side and more coming from marketing and custom budgets. For example, EE Times produces a Web site and content for Intel's Embedded Internet, while Intel controls the entire branding message at the site.
"As our customers spend more on their own Web sites and print products, they are increasingly reaching out to us to do it," says Miller. "Instead of sharing a Web page with 10 other customers, they want their own Web systems."
However, accessing those new budgets requires new relationships, more strategic planning, and often a C-level executive on the publishing side making the first contact.
"That means I've had to go in and meet with CEOs or VPs of marketing and have a higher level discussion that's not about where they are going to put their ads but around what are they looking to achieve," says Miller. "It's not so much a retraining of the sales team as much as having all-hands-on-deck. You need to leverage every relationship you have, from edit folks saying, 'We just heard about this new launch' to hitting the road. We landed one smaller client that did a sole-sponsored virtual event that took up almost their entire marketing budget but they got 2,000 leads which they never would have received from a straight advertising campaign."
While custom marketing programs are a growth area for publishers, Miller says to be aware of the margins and long-term viability. "It's an interesting dynamic but I'm not sure about the scalability issues for publishers—how do you continue to satisfy every customer?" he adds.
"You're not just going to an ad manager and getting next quarter's campaign sorted out and making sure the insertion orders are in. This involves many more resources and we're not going to hire 10 people every time we do this. The margins are strong if the program is conformable and it's not a straight custom project, which can be a lot of work and investment. If the client can re-use what we already offer—such as a version of our online library for downloads or our video player for videos—it's good for us and for them cost-wise."
Virtual Events, Lead Gen and…Banners?
Business-to-business publishers expect digital media to grow from an average of 10 percent of total revenue in 2009 to more than 16 percent in 2010. Much of that is due to increasingly sophisticated digital programs. WATT Publishing is seeing dollars go to three particular areas online: ROI Integrated Marketing Programs ("After three long years of evangelizing measuring programs, we're seeing traction," says director of e-media Jeff Miller); virtual events; and custom programs/content creative that includes social networking and video. "We are providing a variety of new services including 'ghost blogging' and producing content intended to boost SEO," says Miller.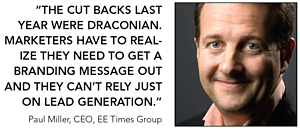 However, some older digital revenue channels are finding new life as well. In 2009, 90 percent of respondents to FOLIO:'s E-Media Survey said they see revenue from banner advertising surpassing e-newsletters (78 percent) and the third biggest revenue generator, Webinars (37 percent). Still, banners have been labeled obsolete, offering little brand recognition and sinking clickthroughs.
However, a cautious return to brand advertising and  new creative capabilities are sparking a renaissance with banners and display advertising. Yahoo! and The New York Times both recently announced better-than-expected first quarter results and cited a bump in online display advertising as part of the reasons. "We're seeing quite a comeback in the banner," says EE Time's Miller. "The cutbacks last year were draconian. Marketers have to realize they need to get a branding message out and they can't rely just on lead generation. They can get more share of voice and more eyeball time by being creative."
The Web is starting to come into its own for both large and small budgets, Miller adds. "A large account may sponsor educational training or a custom Web site while a smaller marketer can post a white paper to our library and get some leads."
Print Slide Slows in U.S.; Growth Abroad?
A recent report from American Business Media said print was the hardest hit category for b-to-b publishers in 2009, down 24 percent to $7.5 billion. The question for many publishers is whether to divert resources away from a declining business that remains half (or in many cases, the vast majority) of the total business, toward unproven digital channels that may or may not click with their market.
"Print media in the tech category has declined for a decade now," says Bob Carrigan, CEO of IDG Communications. "Print continues to be challenged but we're not seeing the decline we saw last year.
Print is still a major staple for WATT—especially in Europe and the Far East. "We've seen a slight bump in pages in our global brands," says Jeff Miller. "We're hedged globally in two of our three markets which helps considerably. However, tough conditions still exist for our domestic-only market."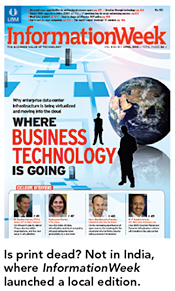 Five years ago, print accounted for two-thirds of United Business Media's revenue, yet today makes up less than 5 percent of its profits. However, UBM is also still launching print magazines where it makes sense.
"Our business is now very local," says UBM chief executive David Levin.  "InformationWeek just launched a print edition in India because it fits the market."
New Revenue Buckets
As publishers offer more "integrated" options for advertisers and transition into more of an agency role, it's getting harder to classify revenue along the traditional lines of "print" and "events" or even advertising. 
IDG Communications sees roughly 43 percent of its U.S. revenue coming from digital, 21 percent from events and print accounting for the rest. "2010 is much better than 2009," says Carrigan. "We're seeing nice growth again in the online area, with specifically created products in lead generation. We do a have peer-to-peer, end-user business with the CIO Executive Council that charges end-users to be part of the peer-to-peer community. That's a business that doesn't fit in any of those buckets. It's a low single digit percentage of revenue but it's a growing business and over time it will become a bigger part of the overall picture."
Publishers are also learning how to operate under their new structures. "We have merged our brands under one umbrella: print, digital and trade show revenue," says Sarah Owen, sales executive at Questex Media. "The next couple of years will be a huge learning curve for us and our customers as they start to experiment with the options available to them. We are finding companies are really tracking every dollar they spend. Right now, a few days before our largest show, we find they like to go back to basics and regret not placing full page ads in our show program."
WATT is also seeing dollars shift to new channels such as professionals services and subscription data as well as wrap data scraping and professional analysis.
"In 2009, I was a nervous wreck," says WATT's Miller. "This year, I'm only nervous."
SIDEBAR
Setting Ground Rules For Lead Gen
Should publishers get a cut of sales?
Lead generation has dominated much of the b-to-b conversation for the last year, offering hope, revenue and not just a little frustration on the part of publishers, many of whom quickly find out the lead gen business can be more than they bargained for.
"We've been able to re-build our properties not from larger, share-of-market accounts, but with smaller companies who want to see lead generation from e-products," says one b-to-b publisher who wishes to remain anonymous. "Even some of our larger accounts are not buying based on the number of unique visitors or page views or any of the other site metrics. They want to see direct ROI in terms of clicks on their ads."
The publisher's traffic continues to skyrocket, but because a follower on Twitter may not be the right fit for advertisers, the click-through actually goes down and the publisher can't leverage the traffic itself because that's not a key buying point for many of its customers. "I feel caught between keeping up and wanting to tap into the benefits of these social mechanisms but I've got limited resources and still need to attend to the basics of getting print products out the door on time, developing new e-newsletters and improving our Web sites," says the publisher.
Don't Turn Lead Gen into a Commodity
More publishers are having to take a stand with advertisers over lead generation. While Haymarket's SC Magazine has used the success it's had generating leads with its SC World Congress virtual show to switch from a flat fee to cost-per-lead model, PennWell's FDIC Online virtual shows will retain a flat $4,500 sponsorship fee, according to Eric Schlett, vice president, publisher/executive director of Fire Engineering Magazine.
"We don't want to get into the discussion with the exhibitor of, 'OK, we had 800 folks come to our booth, but a lot of these guys wanted free t-shirts, how do you qualify them?'" Schlett says. "We don't want to start discounting because of it. A company will say, 'it didn't turn into a sale.' I don't want to coach their sales staff on how they should follow up. That's not my job."
The problem with lead gen is that the sophistication at the client level is all over the map. "We have clients who can measure through to sales and clients who say, 'I'll give you $20 per lead, take it or leave it,'" says EE Times CEO Paul Miller. "That's not a business we want to be in—it's commoditized."
If advertisers are expecting publishers to deliver prospects right through to the sale, publishers should get a cut of that sale, according to Miller. "If you can track through the sales, why not give us a share of the sales we helped create?" he adds. "That's where the client says, 'That's crazy, the process can't be that sophisticated.' At end of day, it has to be that sophisticated."