Scott Dadich
creative director, Wired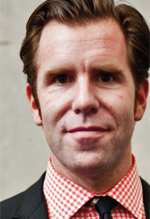 Dadich has been leading design efforts into uncharted, cross-platform territory.
When Conde Nast began prepping some of its magazines for the tablet format, namely the iPad, Wired became the prototype. Under the leadership of Scott Dadich, the magazine had already begun to experiment with digital, non-Web based design formats, and because of the magazine's already intense design palette, the company felt that if a tablet version of Wired could be successfully developed, any of their magazines could.
As such, the magazine will be among the first to be ready for the April debut of the iPad. The early design work literally emerged from sketches and story-boarding, taking single pages and engineering them for the digital platform. "The actual transition work and the impetus was about last summer when we started to talk about the idea that there would be tablet computers coming out," says Dadich. "Nothing had been announced yet, and having seen the rapid adoption of the iPhone, we were excited about the leaps in technology and design."
Using InDesign files and Apple's Keynote presentation software, Dadich and his team constructed an animatic to show to editors to see how it could work. "It developed organically and through conversations," he says.
Rather than porting the magazine literally to the new platform, Dadich and his team incorporated a ground-up approach to design, layout and format that incorporated the magazine's foundation with new functionality.
The March 2010 issue was the first full prototype to be readied in a full dress rehearsal approach. Workflow, staffing and rights and permissions were all managed and analyzed as they progressed through production.
Dadich says the first few versions will incorporate some of the capabilities that have been featured in a video demo the company released, namely 360-degree positioning ("the ability to explore content with your fingers," says Dadich), video and audio. Dadich also liked the ability to present different versions of an infographic, designs the magazine has become notable for. "We go through 10 to 20 iterations of an infographic and then decide on a single frame. To give the reader the ability to see more than that is exciting."
VITAL STATS: Designing for the iPad and tablet platform has been a ground-up proccess, incorporating new workflows, licensing considerations and multimedia functionality.  

BACK TO THE 2010 FOLIO: 40 MAIN PAGEÂ 

03/31/2010