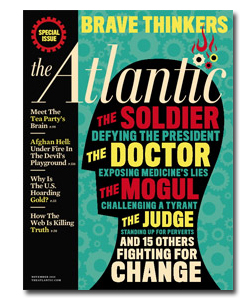 Atlantic Media may be pursuing an aggressive "digital-first" strategy but the print product has hit a historic highmark. While many magazines reporting ad page gains in 2010 are only comparing that to the nightmare of 2009, The Atlantic says its November 2010 issue is the single highest-revenue issue in the magazine's 153-year history.
The November issue-which features The Atlantic's "Brave Thinkers" profiles-saw a 60 percent jump in ad pages and a 95 percent gain in ad revenue over November 2009 (also a "Brave Thinkers" issue). The current issue features customized and unconventional ad units, such as a multiple cover execution sponsored by Dow and a Buick gatefold opening the Brave Thinkers editorial package.
The Atlantic isn't the only publisher with a strong digital presence that has seen print perform. Financial Times predicted that content revenues would overtake print advertising in 2010, but has now moved that prediction to 2011, thanks to a jump in print advertising this year.
Everything You Need to Know About Programmatic
Check out this related session at The Folio: Show, November 1-2 in NYC!
Programmatic has become a juggernaut, driving Google's and Facebook's revenues to levels higher than the entire magazine industry. For many…