With magazine publishers fighting tooth and nail for advertising dollars, and finding themselves up against a slew of new competitors and distribution channels, Regional Media Advisors president Kim Mac Leod says regional publishers need to stop thinking of the print magazine as their main focus and to instead put their brand at the center of their plans, expanding it across as many platforms as makes sense.
"The regional publishing industry needs to rethink the business that it's in," says Mac Leod who launched Regional Media Advisors, an M&A advisory firm dedicated to the regional media sector, five years ago. Mac Leod says part of that rethinking is redefining regional publishing as "Geo Media."
"The brand, not the magazine, needs to be the center of thinking, says Mac Leod [see graphics below]. "Publishers need to focus on their brand in a way that targets platforms across a geographic area."
In addition to vying with other magazines (regionally and nationally) for revenue, regional publishers have been facing steep competition from what Mac Leod calls "geo-domains," online content providers that have purchased region-specific URLs (think NewYorkCity.com, DetroitDoctors.com, etc.) that are highly search friendly and can potentially generate significant traffic and in turn advertising dollars that otherwise might have gone to publishers.
"Publishers have been focused on brand marketing, thinking first about their platform because it's how they've been delivering their message," she says. "I don't believe that everyone is going digital, but if regionals are going to survive they need to move beyond that type of thinking."
While many regional publishers don't have the available resources to take up big brand extension initiatives like some of their national consumer counterparts do, they also don't have to go out and purchase a television station or launch their own radio broadcasting service. "I think we make the mistake that we need to go out and we need to build, but that's not always the case," says Mac Leod. "Strategic partnerships that can be quid pro quos can be very effective."
As an example, Mac Leod says a print magazine can strike up content partnerships with, say, a local visitor bureau with each sharing access to databases and online traffic. In addition to revenue sharing, partnerships can help publishers tap into an audience "beyond the borders of the market," she says.
Bottom line, Mac Leod says a publisher's brand is the most important component of its business. "The idea of getting away from print advertising isn't new. What is new is that there are new platforms that didn't exist before which are potentially perilous to every other platform," she says. "A regional publisher may still continue to get the majority of its revenue from print but won't only be thought of as a print brand."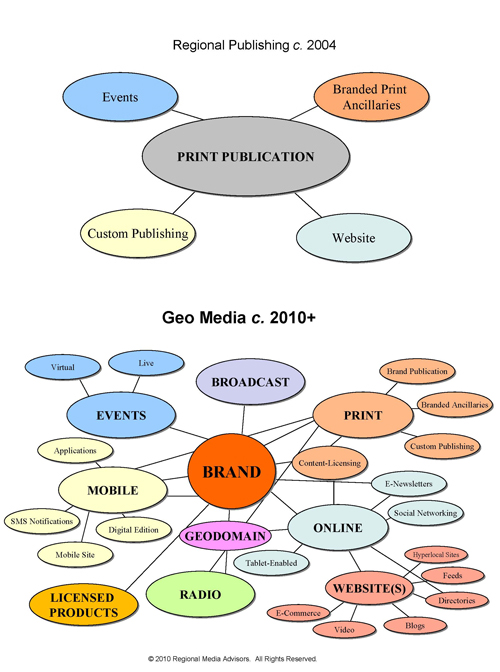 Native Advertising: Delivering for Partners While Retaining Your Brand Voice
Check out this related session at The Folio: Show, November 1-2 in NYC!
Editors have become a key part of the native-advertising conversation, as many successful media brands generate custom content for their…