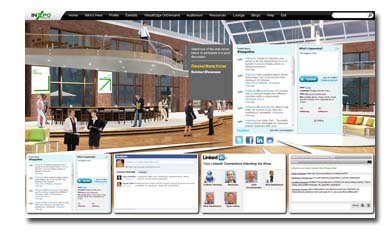 Virtual event platform InXpo has introduced the InXpo Social Suite, a package of social media tools and interactive games (such as Trivia Challenge and Word Scramble) that offer attendees social media functionality without having to leave the virtual event environment.
The package includes Twitter functionality that enables attendees to view and respond to all tweets associated with a hashtag attached to a sponsor, exhibitor or overall event; the ability for attendees to update Facebook walls with event-related discussions and seek out existing LinkedIn connections attending the same event; and invites to multiple people to text or video-based chats.
InXpo says the gaming capabilities could extend across all markets. Last fall, Cisco Systems offered a virtual game as part of a sales training conference.
While the social media suite will be offered under existing InXpo pricing, separate fees will exist for game development.
Audiences, Marketing and a No-Holds Barred Peer-to-Peer Conversations With Your Fellow Pros
Check out this related session at The Folio: Show, November 1-2 in NYC!
The marketing department is at the crossroads of the most dramatic changes occurring in media: Digital marketing, content marketing, lead-generation,…