Extending Trade Show Reach Online
Maxed out on physical space, PennWell turns to virtual events.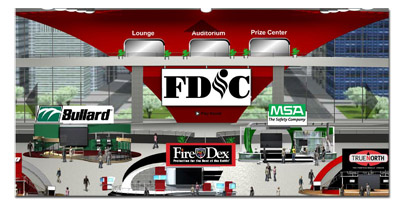 At a time when many publishers have seen live events dwindle (American Business Media just released a report that said events were the second hardest hit category after print in 2009, down 15.8 percent to $11.1 billion), many would eagerly take a show such as PennWell's 88-year-old Fire Department Instructor's Conference (FDIC), which has proven relatively recession-resistant, drawing 27,000 attendees and selling out 800 exhibit booths at the Indianapolis Convention Center.

However, maxing out the physical space can also mean lost opportunities. Working with InXpo, PennWell runs two virtual events per year called FDIC Online. "There are 1.2 million firefighters in the U.S. and that means there's a big audience out there who can't come to FDIC," says Eric Schlett, vice president, publisher/executive director of Fire Engineering Magazine. "Using the distance learning mentality, how do we drive folks online to give firefighters the opportunity to get educated?"

FDIC Online typically features video of the keynote speaker as well as seven to eight classroom sessions from the live show. With more than 1,000 presenters offering to speak each year, PennWell also uses FDIC Online to trial new talent before speaking at the live event the next year. The format includes a media lounge and prize center that rewards attendees for visiting vendor booths. "We'll get 800, 900 leads for what we consider a small investment," says Schlett.  

The virtual shows average about 3,000 registered attendees, with 60 percent attending the online event.
Sponsor and Exhibitor Options

PennWell offers 20 to 23 exhibitor booths for FDIC Online at about $4,500 a pop as well as virtual classroom sponsorships, in which sponsors get e-mail addresses of everyone who attends the class. The overall education sponsor receives registration data for all attendees. "That, to me, is the most valuable sponsorship we have," says Schlett. "Like a lot of publishers we're experimenting with different pricing modes with online packages and debating a CPM basis or a flat fee. We've done both and we're back to a flat rate, even on our banners."

While Haymarket's SC Magazine has used the success it's had generating leads with its SC World Congress virtual show to switch from a flat fee to cost-per-lead model, Schlett says FDIC won't follow suit.

"We don't want to get into the discussion with the exhibitor of, 'OK, we had 800 folks come to our booth, but a lot of these guys wanted free t-shirts, how do you qualify them?'" he adds. "We don't want to get start discounting because of it. Someone like Pierce Fire Truck Co. knows how to follow through on a lead. Another company will say, 'it didn't turn into a sale.' I don't want to coach their sales staff on how they should follow up. That's not my job."

The biggest key to a successful virtual event is the marketing—and the closer to the event, the better the response, says Schlett. "Anything longer than six weeks out, those folks forget, even if you send reminders," he adds. "The best attendees are the ones who sign up within two weeks of the show."

04/07/2010