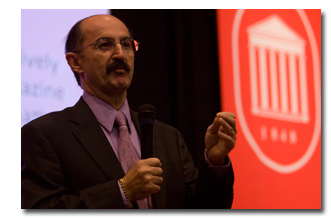 RELATED POST: 'The Future Does Not Exist'
Living in an age of "digital distraction," magazine-based media companies need to come to terms with what they're becoming, and whether they're doing it by default or design, said Roger Fransecky, CEO of the corporate-consulting firm Apogee Group, and keynote speaker at last week's "Reimagining the Future," conference held at the Magazine Innovation Center at the University of Mississippi.
The powerful metaphor going forward is "conversation," Fransecky said, and media companies can create a path to the next one. "You're no longer information providers, you're in the conversation business," he told the audience of about 125 magazine-industry professionals and journalism-school students. From a business perspective, the challenge is to ask a series of questions in that context. "What's over?' Fransecky asked. "What do you still believe? When you look at your business, you need to ask, 'what do we still trust?'"
The conference was organized by Samir Husni [pictured], founder and director of the Magazine Innovation Center, and was held at the center's facility in Oxford, Mississippi. Over the three-day event, speakers tackled the fast-changing landscape from a variety of perspectives, sometimes outlining what they're doing in their own businesses and other times prescribing advice for the industry.
For example, James G. Elliott, CEO of an eponymous media sales and consulting firm, noted that the recession has hit all media, not just print media and not just magazines. High unemployment in the upper middle class, he said, has caused a dramatic falloff in subscriptions and newsstand sales.
Magazines, Elliott said, are too magazine-centric. "The thinking is isolated and inbred," he said. "We allow folks in other industries to define us or ignore us."
Circulation consultant Baird Davis said publishers were caught flat-footed by the recession. There are, Davis said:
• Too many marginal publications
• Too many "over-circulated" publications
• An over-abundance of "leveraged" companies
• Too many "lightly" qualified CEOs
• A lopsided concentration on advertising
• A fragile newsstand channel and diminished consumer value of subscription files
• Diminished circulation staffs with reduced consumer-marketing skills
• Companies improperly organized and staffed to meet demands of the new digitally driven consumer-centric market
And with the recession, Davis said, the private-equity fueled "Leveraged Era" was done.
'Don't Be Scared. Be Excited.'
There were some mixed messages about how to deal with the universe of Internet information, where blogs, videos, comments, posts and other content doesn't have the same meticulous attention to accuracy and credibility as traditional print media. When it comes to advertising, Elliott said to do in print what you would do online. But Thomaz Souto Correa, editorial vice president of The Abril Group in Brazil, said the correct focus should be on the future of the reader, not the future of the magazine. Correa asked the most provocative question of the event: Given the changing rules for content online, "Will credibility matter in the future?"
The conference closed with a presentation from Bob Guccione, Jr., who kept his commitment to speak even though his father, Penthouse founder Bob Guccione, had died the previous day. Fear and mystification of the Internet, Guccione, Jr., said, is unfounded. "The Internet is a railroad track, an infinite number of railroad tracks, carrying other people's cargo," he said. "And we're the other people. To think otherwise is like a farmer saying to his tool: 'Command me.'
"I have no insights into digital media," Guccione said. "None! And I'm starting two Web sites. I think it's still about, 'How do you make it interesting?' It's all going to come down to the quality of the content. Don't be scared. Be excited. Wake up excited."
Creating New Revenue with Content Marketing and Native Advertising
Check out this related session at The Folio: Show, November 1-2 in NYC!
If your business remains print centric, dependent on legacy formats like full-page print ads, then content marketing and native advertising…