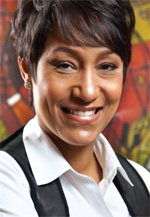 We're trying to re-establish, reaffirm and revitalize these brands. We hired Amy BuBois Barnett, the former deputy editor-in-chief of Harper's Bazaar, as the new editor-in-chief of Ebony and we're re-positioning and modernizing the Ebony brand.
People may worry about how existing readers will respond but my number one priority is to find people who love these brands. We have a great group of people who've been here for a long period of time and what we're doing is sprinkling them together with our new team so we don't lose sight of where we've been, but are able to leap forward and get to the next level for these publications. We brought in Rodrigo Sierra as our new chief marketing officer, we brought in a new head of media sales and a new head on our cosmetics side of the business.
We are working hard on our circulation and I expect to return to our rate base in 2011. We've given a lot of thought to the fundamentals of the business. We're making sure our fundamentals are strong and we've built a frame for that next level. We're not trying to be fancy-first.
It can always be disruptive as you build a new team. In many respects, people are having to get used to new executives. There is a very big challenge with how do you lead during transitional times and provide an environment in which people can do their best work?
Recently we've experienced the sale of our Chicago  headquarters. There are a lot of changes happening at the  same time yet we're continuing to publish a monthly and a weekly.
We're increasing our sales staff in New York City. This is one of first times we've increased the sales staff there and the new head of sales will be located in New York. You will also see us increase our editorial presence on the East Coast.
I don't really see the rise of digital, social media and bloggers as disruption, I see it as part of the creative process. I view them as other distribution channels for our style and who we are. There is an Ebony style, there is a Jet style and we need to be sure we are moving in the direction of ensuring we make a play in those various forms of distribution.
We're not fighting the bloggers, we welcome the bloggers. Instead of thinking, 'Oh, what was it once,' we're excited about what it can be in the future. If we can be a conduit for others, whether it be a consumer products company or someone that is just trying to get a better sense of African Americans or a multicultural audience, we're delighted to be part of that partnership.
Right now it's so busy because we're looking to upgrade both magazines plus the cosmetics line without losing the rich history that's been established. In no way do I want anyone to think that we're walking away from our history. We want that old excitement back. We have to remain focused on what we're trying to achieve as a unit.
Charles H. Townsend, CEO, Condé Nast
Henry Blodget, editor-in-chief and CEO, Business Insider
Don Pazour, CEO, Access Intelligence
Brian Rowland, president, Rowland Publishing

Greg Loewen, president, Emmis Publishing

Peter Johnson, CEO, Mining Media International

Ed Gillette, president and CEO, Scranton Gillette Communications
Bill Holiber, CEO, U.S. News & World Report and New York Daily News