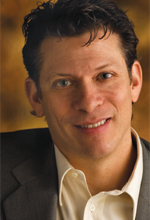 He's building a model for converting media companies into e-commerce companies.
Two years ago, F+W Publishing was channel focused. At $300 million it had significant scale, but massively skewed in the direction of print. More than 80 percent of the company's revenue came from print, either magazines, at about 35 percent of revenue, or books, at about 60 percent.
There were separate divisions for books and magazines, as well as for events and yes, e-media, but there was no synergy across media channels, even those serving the same markets.
When David Nussbaum took over as CEO in January 2008, that began to change. "We reorganized in early 2009 into vertical communities," he says. "There are 16 in total. All media and information products regardless of delivery method are integrated under a new position in the company: Community leader."
Part of the reorganization was a simple symbolic act: Change the name to F+W Media. "We decided to better leverage our community strength," Nussbaum says. "F+W has over 3 million community members across our verticals, including paid subscribers, our e-mail database, and unique visitors. As part of the reorganization we recognized that our initial online strategy of building magazine Web sites to drive traffic and sell online advertising was a bit flawed—we are an enthusiast-consumer media company, so we could never drive massive traffic and compete with the big guys."
The company switched gears, and focused instead on developing an e-commerce strategy. "We launched 21 e-stores, and within 12 months—by the end of 2009—we were driving hundreds of thousands of dollar sales every month and growing rapidly on a month-on-month basis," Nussbaum says. "We are selling books, digital products, online video, data and the like." The stores are averaging over 500,000 unique customer visits per month.
The result, Nussbaum says, is a new spirit of innovation driven "by the community, of the community, for the community," and e-media sales that have gone from negligible to north of 10 percent.
VITAL STATS: Twenty-one e-commerce stores built in 12 months, netting 500,000 unique visitors per month to the stores. E-commerce now represents more than 10 percent of total revenue.