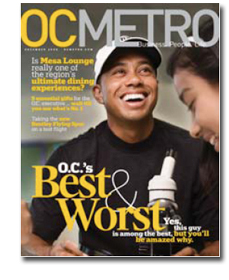 Newport Beach, California-based magazine publisher Churm Media has undergone a restructuring it says strengthens its commitment to building new digital content delivery channels.
"Several years ago, Churm Media committed to evolving as a media company by its investment in creating interactive Web sites for all its brands," said CEO and owner Steve Churm. Churm Media produces five regional publications: OC METRO, OC Family, OC MENUS, Inland Empire Family and Southland Golf.
"What resulted was a new profit center and national recognition for the sites we built," Churm said. "That was a huge step, but it was only the first step."
As part of the reorganization, chief content officer Kim Porrazzo was appointed to the newly-created position of president and CCO. Tina Borgatta was promoted to editor-in-chief of OC METRO and OC MENUS; associate editor Susan Belknapp was named managing editor of OC Family and Inland Empire Family; Kristen Schott, who served as an assistant Web editor, was promoted Web editor; and copy editor Larry Urish was named associate editor for all of Churm Media's brands.
No layoffs were associated with the reorganization, Churm said.
In 2008, Churm invested roughly $350,000 on Web redevelopment efforts. Last year, his investment was in sales training and on bundling products as "value-add." The company generated more than $300,000 in online revenues, he said.
 
Churm said the reorganization better positions the publisher as a 360-degree media company. He said he intends to double last year's online revenue in 2010.
"We're more committed than ever to fulfilling our potential," Churm said. "I'm talking about moving beyond having an award-winning Web site and looking for more ways to meet the marketing needs of our advertisers as well as 'talking' to our audience where they are—on their phones, on Facebook, in apps, through Mobile marketing networks. That's where we're headed and if we're going there, we need focus."
Secrets of the Top Editors: Peer-to-Peer Conversations
Check out this related session at The Folio: Show, November 1-2 in NYC!
Whether B2B, association, consumer or regional, all magazine editors face many of the same issues. It's not just about coming…