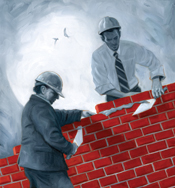 Last month, Penton Media emerged from Chapter 11 after 23 days, shedding $270 million in long-term debt as part of its restructuring (Penton's private equity owners also agreed to inject between $38.9 million and $51.2 million into the company). Moving forward, Penton says it will rely more on custom and marketing services for growth. "Our clients are increasingly looking for a more targeted, return-based approach," says CEO Sharon Rowlands. "We all need to become more relevant in our market and that relevance has to be manifest in content strategy and driving new product development, which has a big impact on the sales organization and their ability to sell in a more consultative manner."
While Penton has offered custom services for years, in February 2009 it relaunched that unit as the Penton Custom Solutions Group, led by vice president of custom solutions Scott Bieda. "I've been a publisher for 17 years, and Penton wanted someone from a publishing background," he says. "The custom team had core offerings when I got there including special supplements, print and e-mail newsletters, Webinars and some virtual tradeshows. However, in the last year, things have exploded. The entire portfolio has tripled."
That includes a new emphasis on market research. "We realized research was being underutilized in the organization," says Bieda. "Research will be a big focus."
That includes a Critical Trends Report in which Penton applies 10 different areas of evaluation criteria—such as quarterly sales; profitability; back-log of work; raw material costs; labor costs; and other costs that may be extraordinary—to a select marketplace. "This provides readers and manufacturers with a forward-looking document," says Bieda. "That's something you can plug into just about any market."
Moving Into Marketing Services
As are many publishers, Penton is developing marketing services capabilities that go well beyond the traditional custom solution. "People talk about marketing services—but what are they?" says Bieda. "Our clients are asking us for certain things. We have a whole new division that will start providing those turnkey services over the next month or so. We're not targeting the Krafts or Procter & Gambles of the world, they have those capabilities. But once you get past that level, then we start to get questions like, 'Can you handle this for me?'"
Bieda says marketing services require a dedicated staff. "You can try to use existing staff but you end up serving two masters," he adds. "Everybody is doing two jobs anyway, they don't need a third. If you're getting into this business, you have to have a list of deliverables and be on the timeline of the client. To compete with integrated agencies, you have to be staffed up to do it. You can hire one point person and outsource all the deliverables but you make the least amount of money when you do that, plus you cede some of the control. You can buy yourself an agency—Meredith has done that. The fourth way is to hire four to five people with the knowledge base that ranges from how to do a 2-D bar code program to knowing search engine optimization. We can pull SEO people within the company but they have to be fully committed to the marketing services group."
A $10 Million Business That Grows Faster But Has Lower Margins Than Print?
Initial revenue will probably be less than $1 million but should ramp up quickly from there, according to Bieda. "If we were to start this year, I will be happy with half a million dollars in business," he adds. "As we put more muscle behind these offerings, it could be $2 million next year and $5 million the year after. Eventually, this could be a $10 million business."
However, Bieda warns other publishers that while marketing services can offer strong growth, these new revenue streams don't offer margins quite as profitable as what publishers may be used to.
 "Before the recession, the margins in the traditional magazine publishing business were pretty good and they're still not bad," says Bieda. "The margins with marketing services are slightly lower than traditional publishing. But, it's always going to be an up and down business—something like SEO services will be extremely profitable because it's billing people for time and putting them on a monthly retainer. Some of the other services—like video—may not be as profitable but are still good businesses. They're still healthy but at a slightly lower margin than traditional publishing because the costs are much higher. But slightly lower than traditional media is still a great margin."
SIDEBAR #1

Buffalo Spree Publishing: "Where the Agency lets Off, We Begin."
Custom and marketing services aren't just the domain of larger publishers. Buffalo Spree Publishing, a publisher of city and regional titles for Western New York, began its custom division eight years ago.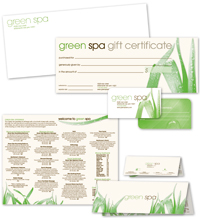 While the publisher does produce annual magazines for select clients, its custom work has historically included theaters, concert venues and spas. "We publish 17 of the playbills for area theaters, concert halls, and other performing arts venues," says vice president of sales Barbara Macks. "We also do everything from identity packages to magazine inserts, direct mail, brochures, posters and postcards for three spas and salons in the area."
Over the past few years, Buffalo Spree brought 50 to 60 new clients on board, despite not having anyone dedicated to selling its custom offerings. "The jobs that we get come through our sales staff. When our sales reps are in the field, they pitch brochures to our existing magazine customers," says Macks.
In 2009, Buffalo Spree brought in a new salesperson to head up a dedicated sales, marketing and promotion group. "We've taken our custom publishing to the next level," says Macks. "He's also focused on promotional goods and direct mail campaigns, he buys radio and TV for clients and he will service billboards if he needs to. Where the agency lets off, we begin."
Price-wise, the custom collateral ranges from business cards at "a few hundred dollars" to theater programs, which can cost "hundreds of thousands of dollars," according to Macks. One spa client spent $40,000-$60,000 over the course of a year on direct mail and brochures, she says.
While there are no salespeople dedicated exclusively to custom publishing, each salesperson has part of their commission as well as annual budget based on custom sales. 
Custom still remains "at the bottom of our repertoire," Macks says, accounting for more than 15 percent of the publisher's total revenue, up from 10 percent five years ago.
Ultimately, the goal is to increase custom to 25 percent of total revenue, according to Macks. n
SIDEBAR #2
Nine Opportunities for Marketing Services
Penton Media is developing a new marketing services group that will be a key asset of its custom business. Here, vice president of custom solutions Scott Bieda identifies nine areas the publisher is counting on for growth.
1. Online. "Web site building, Web site design and SEO—that's going to be huge. I see that as one of the biggest untapped areas to provide a very profitable and very needed service to readers or advertisers."
2. Market and Trend Research.
3. Mobile Marketing. "We're getting a lot of calls about doing this."
4. E-mail Marketing. "Everybody does it but there is a strategic or systemic approach that should be applied."
5. Content Marketing.
6. Metrics and Analytics. "People use them but there is a huge gap in understanding the metrics of their Web site and how they can use that data."
7. Social Media Marketing. "Everybody thinks that's free. It's free except somebody has to do it."
8. Video and Online TV. "That's a huge initiative. At AmericanPrinter.com, we have a bi-weekly TV news show that looks like an Entertainment Tonight-type report. That's the only newscast that we know of for that marketplace. We want to roll that approach out to other markets. That's a sponsorship model—we can produce video for clients or they can give us video that's already done."
9. 2-D Bar codes. "We've done that with a few of our magazines and we will be coaching people on how to take advantage of that. I'm hoping that brings some print back to life."