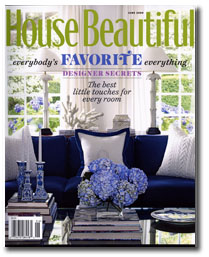 NEW YORK—Will the once-mighty shelter media category survive the economic recession? That was the topic of a panel discussion held here Tuesday at the Hearst Tower. The resounding answer among panelists was yes, although some products that exist today might not be around by the time the economy rebounds.
"This recession is causing a thinning of the herd and I think that's a good thing," said Maxwell Gillingham-Ryan, an interior designer and founder of blog network Apartment Therapy. "Shelter media properties need to prove that they're valuable—no one is losing interest in their homes. Those that do will survive, they'll improve, and be in a better place."
Other panelists included House Beautiful editor Stephen Drucker; New York magazine design editor Wendy Goodman; Mitchell Gold, co-founder of furniture company Mitchell Gold + Bob Williams; and Thom Filicia, formerly of NBC's Queer Eye for the Straight Guy.
According to the panelists, the major obstacle facing shelter media is the same one that's affecting media in general: the shift of marketing dollars from traditional print products to online. "How do we in shelter media do a good job of catching people where they are?" Maxwell asked, then offered an answer. "Consumers are online, they're reading magazines and books. The challenge is how to take an ad sales model that's used to selling space on pages in the magazine and get it to do the same effective job on a Web site. Online, I think it's a challenge of how to make a space act like the magazine."
"You can't get hung up on paper as a delivery system," Drucker said.  "[Amazon's] Kindle and magazines are really the same experience. When House Beautiful launched in 1896, there wasn't big, beautiful photography like we have today. It's not just about paper and photographs. It's about reading. I think technologies like the Kindle might extend that experience."
Don't 'Tchotchke it Up'
Maxwell cautioned against the impulse to do—and sell—too much on the Web. "Those that push too far into invading content will regret it," he said. "I'm an advocate of re-empowering the readers as stakeholders in the product. Maybe readers need to pay a bit more to help allow magazines to maintain their 'high ground' without product placement all over the place."
Even as technologies for delivering content advance, consumers will always need editors to filter the content, online and in print, New York's Goodman said."People appreciate guidance and editors are professional guides. That need won't disappear. That said, this is major moment in media. New York is working hard to make the Web site integral to the magazine experience."
Gold, an advertiser in online and print, said both mediums are still evolving. "Print is changing and online is still figuring out what it's supposed to look like," he said. "We recognize that people are doing more than just one thing. Even the most tech savvy people are carrying and reading magazines. Either way, media should focus on doing what it does well, and not tchotchke it up when things get bad."
Creating and Retaining Your Sales "A Team"
Check out this related session at The Folio: Show, November 1-2 in NYC!
Sales management is more important than ever, and in some ways more difficult than ever. Sales is much more multifaceted,…