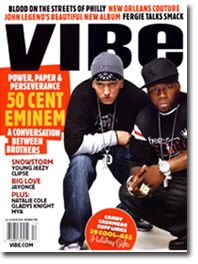 Last week, Vibe launched Vibe Verses, its third annual online rap battle (think American Idol meets hip-hop). This year's installment features the "No. 1 Stan Contest," giving aspiring rappers a chance to be judged by artist Eminem.
While Vibe has produced a number online events and promotions—such as its recent online experiment, the Vammys—the magazine is banking on Eminem's popularity to boost traffic, users to its social network  and, yes, subscriptions to the magazine.
So far, the contest is on track to have three times the number of user sign ups, Vibe says. Likewise, VIBE.com page views have increased by almost 300 percent compared to what it averages in a "non-contest" month.
Meanwhile, it's a marketing play for both sides.
Eminem is a key component to the title's June/July "Real Rap" print issue, which coincides with his new album, Relapse (the above is a 2006 Vibe cover). "He's a friend of the [Vibe] brand, so we want to support his release," Vibe Media Group associate publisher of marketing Olivia Scott-Perkins said. (Eminem's lastest album, 2004's Encore, has sold around 5 million units in the U.S., a far cry from its earlier album, The Eminem Show, with upwards of 9 million U.S. sales.)
But with Vibe's paid and verified circulation sliding 8.6 percent during the second half of 2008 according to the ABC and ad pages falling 17.7 percent, according to PIB, can the Real Slim Shady boost Vibe's print?
While its June/July print issue may already have competition—like XXL's recently debuted June cover—Scott-Perkins told FOLIO: that "no one else has a contest featuring [Eminem] and a quote [from him] thanking Vibe for bringing the battle off of the street corners and to the online space."
Tools, Tactics and Technologies for Next-Gen Email Marketing
Check out this related session at The Folio: Show, November 1-2 in NYC!
It's the workhorse of your marketing efforts, and the linchpin of your data-management efforts. But there are important things you…