Todd Matherne
CEO | Renaissance Publishing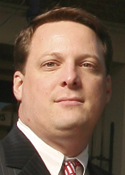 Nearly wiped out by Hurricane Katrina, the publisher of New Orleans considered closing until three employees—chief executive officer Todd Matherne, executive vice president and director of sales Kelley Faucheux and editor-in-chief Errol Laborde—bought out the publishing assets and renamed it Renaissance Publishing. Today, they're launching new products and developing a multi-faceted strategy including print, online and custom.
In April, Renaissance will launch Gulf Coast Wine + Dine. The publisher teamed with a noted food and wine radio host to serve as lead editor, while existing Renaissance staff will support. The magazine will publish twice per year to start. "That's how we launched New Orleans Homes & Lifestyles," says Matherne. "We started twice, then four times, then six, and kept growing. If we can get between $60,000 and $80,000 in the first issue, we'd be ecstatic."
Renaissance is also investing $100,000 in the launch of a new Web portal, MyNewOrleans.com, which will repackage print content as well as generate original online content, including a series of blogs looking at shopping, bars, fine dining and weddings.
Renaissance is prioritizing sponsorships over banners and sells sponsorships around newsletters, including one that leads up to Fat Tuesday during Mardi Gras.
"We've never made money on the Web," says Matherne. "We were at the point where we were either in it or out of it. If we break even on the Web, I'll be happy. I'd love to do hard news and business news but that's not how we're set up right now. That's phase two."
Custom publishing kept Renaissance alive in the early days and new opportunities such as publishing directories for the Home Show at the New Orleans Superdome continue to drive the business beyond its core books.
To save, Renaissance postponed a much-needed office move. "We didn't want to take on any debt," says Matherne. "We're not taking income from the business as owners. What we're making we put into it. We're still about three years into getting back to pre-Katrina levels."
Renaissance posted top line growth of 12 percent last year, generating almost $4.5 million. Matherne hopes to break $5 million in 2009. "February is our toughest month across the board," says Matherne. "It's still tough this year but it's better than last year."

Where They Will Grow: Goal is to break $5 million in 2009, driven by print and custom publishing.

Where They Will Save: Renaissance postponed a much-needed office move to avoid taking on debt.
 
Quote: "We've never made money on the Web. If we make $100,000 to cover costs, I'll be happy."


MAIN PAGE
Toyin Awesu publisher and editor-in-chief | AvenueReport.com
Cameron Brown president | King Fish Media
Deborah Esayian co-president | Emmis Interactive
Efrem "Skip" Zimbalist CEO | Active Interest Media
Justin Smith president | The Atlantic
Steven Kotok general manager | The Week
Len Burnett co-founder, co-CEO | Uptown
Risa Crandall VP | Scholastic Parents Media
Janet Libert editor and publisher | Executive Travel SkyGuide
Mike Domke founder and president | Milo Media
Jim Prevor CEO | Phoenix Media Network
Kent Brownridge general manager | OK!
Samir Arora CEO | Glam Media
John Sateja EVP | Consumer's Union
Jim Vick staff director/publisher | IEEE Spectrum
Pete May president | Greener World Media
Barb Newton president | Sunset Publishing
Paul Mackler | CEO | HMP Communications Holdings
Harry Sachinis | president | McGraw-Hill Business Information

01/30/2009