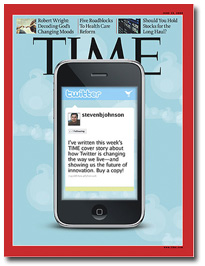 We've been covering the debate over ads on magazine covers ("The Great Cover Ad Debate") at FOLIO: a lot lately. So far, we've limited the debate to magazines—fairly openly and brazenly—putting ads on their covers.
But what about magazines whose covers—while editorial by nature—look like an ad?
Take Time's June 15 issue. The cover touts a somewhat generic mobile phone (it looks like an iPhone) with a Twitter update by the issue's cover story author, Steven Johnson, reading: "I've written this week's TIME cover story about how Twitter is changing the way we live—and showing us the future of innovation. Buy a copy!"
Is this low-cost design an effective way to promote the issue's cover story on Twitter? An odd effort to make their cover look like a Twitter ad? Or something else?
Leave your comments below.
Developing a Video Strategy That Works for Your Brand
Check out this related session at The Folio: Show, November 1-2 in NYC!
Video content represents huge opportunities for digital audience growth and new revenue, with some publishers going as far as to…